Good Saturday morning.  I am in a spring mood and wanted to create a flower project using my favorite flower color combination.  The flowers and inner frame was made using Susan's Garden Patch 1 Inch Mini Daisy and Chrysanthemum.  The purple mat was made using the My Favorite Things Pierced Square Frames and the outer frame layer was made using Spellbinders Classic Squares.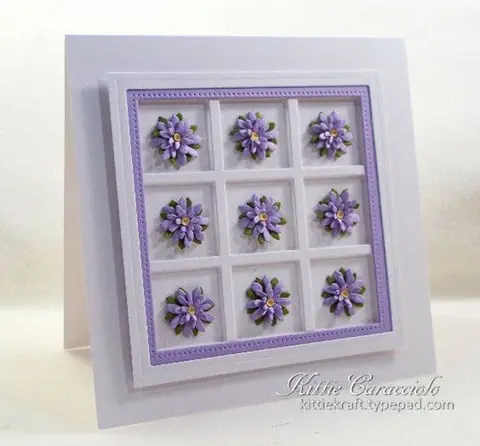 The frames were cut and layered together with double stick tape.  I attached thin strips of mounting tape to the back of the frame and then attached it to the card base.  I have to fess up that I had a hard time getting my frames to attach perfectly straight so the mats are a little crooked.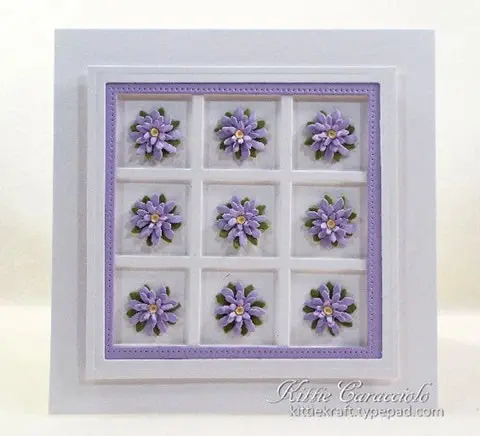 I cut nine sets of the three layered flower in purple and nine of the largest flower in green for the base of each flower. I placed all the flowers face down on the molding pad and rounded and formed them using a light rolling motion. Then I turned them over and pushed down on the center of each flower with the small ball end of the leaf tool. I assembled and attached all the flower sections together with glossy accent.  I used a 1/8" circle punch to punch out the tiny yellow flower centers, formed them with the stylus and attached them in the flower using glossy accents. The flowers were attached to the card base with glossy accents.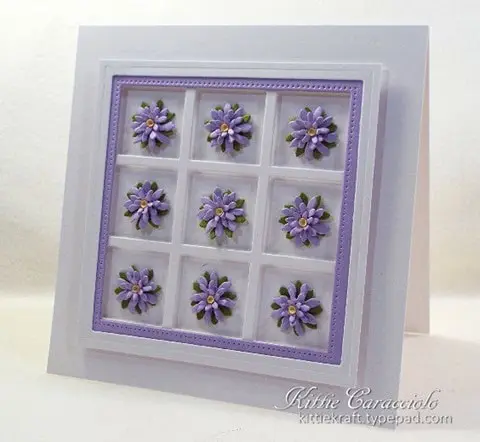 Thanks for stopping by today and I hope you have a great weekend.
Card size:  5 Inch Square