Good Thursday morning.  I wish I had a dollar for every paper wreath I have made for my cards over the years.  I was excited to see the new Impression Obsession Wreath Builder set with the four different branch shapes.  I used the evergreen, holly and berry branches on today's project and they work together so well to create natural looking wreath.  I think the red and white gingham paper and scored white background creates a country Christmas feel.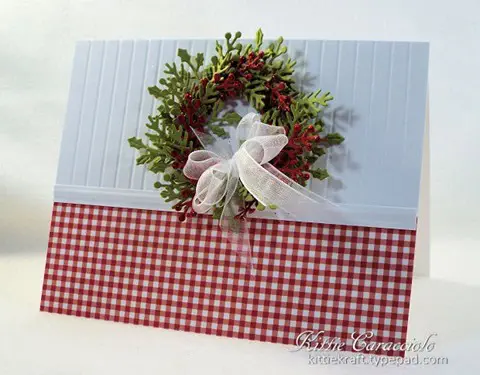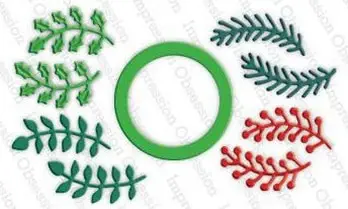 I cut the wreath base and several sets of evergreen, holly and berry branches in green and some berry branches in red. I followed my normal basic process of attaching the branches to the base using glossy accents.  You can check out my evergreen wreath step by step picture and video tutorial over on Splitcoaststampers  and the paper wreath tutorial on my blog if you would like to see how I assembled this wreath.  In my tutorials you'll see that I attach the branches by placing one straight up, one to the left and one to the right and continuing that pattern all the way around the base.  The branches in this set have a right curved and left curved shape and that caused me to modify how I attached them to the base. I attached the holly branches one left and one right all the way around the base.  Next I filled in the wreath with the evergreen branches one left and one right and tucked them in around the holly. I tucked the green berry branches in and around the holly and evergreen to add another lever of fullness.  I used the red berry branches to fill in the center all the way around the wreath.  I need to mention that as I worked to build the fullness of the wreath I cut length off of the branches to confine them within the main shape of holly branch base. I hope that made sense. I applied red stickles to the red berry branches and set the wreath aside to dry.  I finished by adding a white multi loop bow.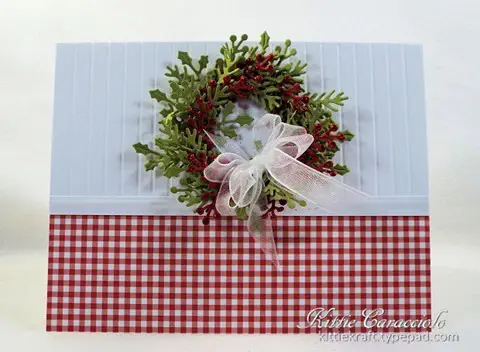 I wanted to make the wreath the main focus of my card so I created a simple base using the red gingham and scored white base.  I added a strip of crimped white cardstock to cover where the white and gingham pieces met and to make the card base appear like a wall in a country home.  I attached the wreath to the card base using glossy accents.  I think this wreath is so sweet and old-fashioned looking.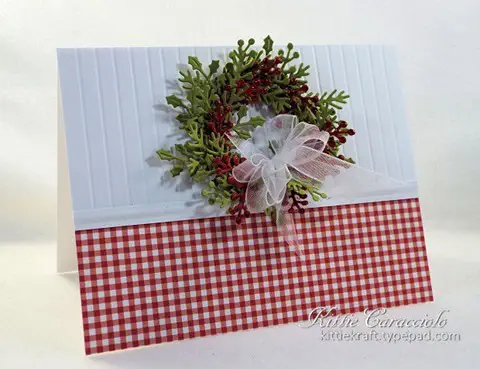 Thanks for coming by and I hope you have a great day.
Card size:  5.50" x 4.25"
Save