Good Sunday morning.  My project today is another sparkly winter snowy scene made using the new Impression Obsession Three Trees Background and one deer from the new  Deer Pair.  I stamped the trees in the background using the Small Fir Tree and framed the scene using the All-in-One Frames Rectangles 2.  I went a little sparkle crazy on this scene and applied glitter on the ground, die cut trees and fir trees in the background.  Too bad it doesn't show up as pretty in the photos as it is in person.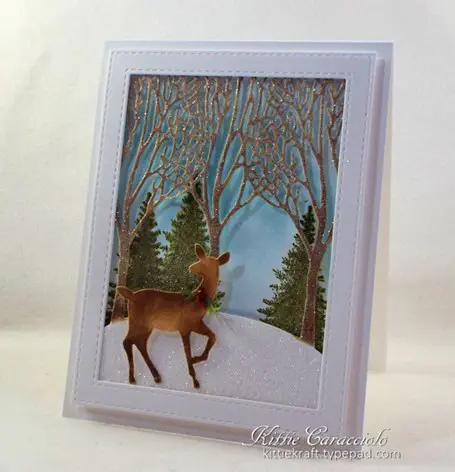 I stamped the background trees using Peeled Paint ink, heat set and then sponge in the sky area using Tumbled Glass ink and an ink blending tool. I applied Pumice Stone and Vintage Photo ink to the die cut trees using mini applicators.  I blended those two colors to give the trees more of a brownish gray.  I heat set the ink on the trees. I carefully applied Cosmic Glitter Glue to the fir trees on the background layer and the three trees and ground area and sprinkled with glitter. I was careful to not apply glitter to the outer edge of the tree frame so the adhesive would stick when I attached the trees to the front frame. I set the glittered pieces aside to dry and went on to coloring the deer. I used mini applicators to apply  Antique Linen and Vintage Photo ink to the deer.  Check out my Coloring Die Cut Animals tutorial if you would like to see how I colored my deer.  I finished the deer with two little fir sprigs, 1/8" red punched circles and red Stickles.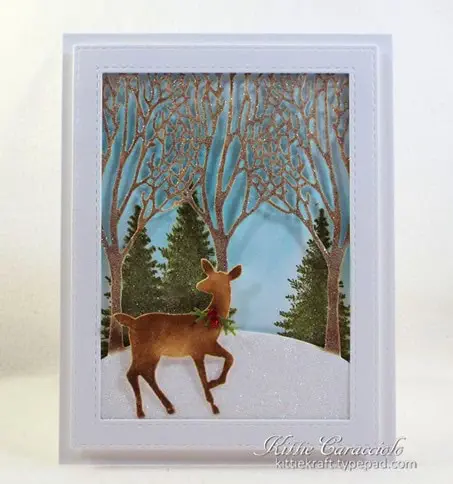 I started assembling the card by placing the background scene layer to the card base. Next I applied double stick tape to the back of the outer frame and attached the three trees. I applied thin strips of mounting tape all the way around the back of the frame and attached it to the scene on the card base. I applied double stick tape to the body of the deer and glossy accents to it's feet and attached it to the ground area.  I held the feet in place until the glue was dry to make sure the deer was secure.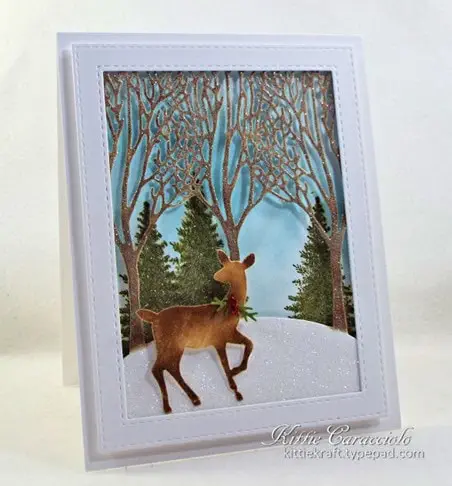 Check out the all the new holiday images in the Impression Obsession Die Release.  Thanks for coming by and I  hope you have a great day. 
Card size:  5.50 x 4.25" 
Save