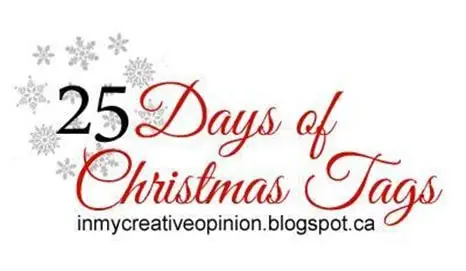 Good Monday morning. I am excited to be joining day 7 of Tracey McNeely's 25 Days of Christmas Tags event and representing Ellen Hutson. If you would like a chance to win wonderful prizes from all the companies sponsoring this event hop on over to Tracy's blog for all the details. You can make a tag of your own and upload it on Tracy's blog for an additional chance to win a prize. Handmade tags add such a lovely personal touch to our holiday gifts. If you need inspiration to help you come up with new ideas you need to check out all the wonderful tags being made by the designers and participants at My Creative Opinion. 
I had fun creating my little scene tag using the Essentials by Ellen Home and Hearth set and Poppystamps Pinpoint Main Street Tags. I started by cutting the tag base and tag frame.  I cut two layers of ground snow, applied Cosmic glitter glue and glitter and allowed to dry.  I cut the houses in red and again in white, cut the white roofs off and attached them to the red houses with glossy accents.  I applied the glitter glue and glitter to the roof tops for an additional touch of sparkle. I cut several trees and stars to be placed around the scene.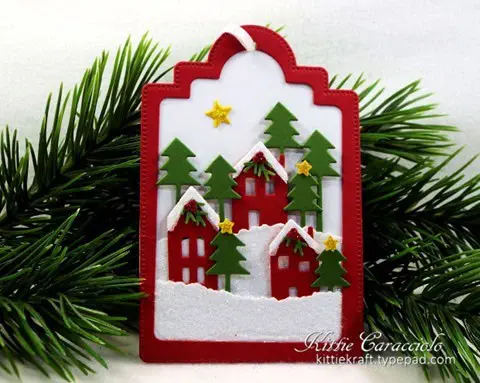 I attached the two ground sections to the back of the red frame using double stick tape then applied mounting tape to the frame and attached it to the tag base. The houses were set in place and attached with mounting tape.  The trees were attached around the houses using mounting tape.  One larger star was attached in the sky and three tiny stars were attached to trees with glossy accents.  I added tiny pieces of evergreen and red berries to the roof top of the houses.  I added more sparkle to the scene by adding yellow stickles to all the stars and red stickles to the berries.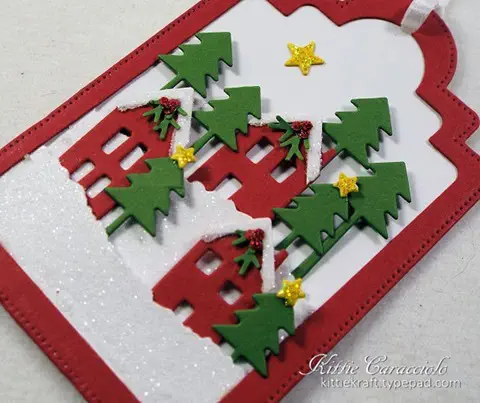 I love the country feel of the little cottages and trees.  Here's a closer view to show off all the sparkle.
I hope you go on over to Tracy's blog to check out all the gorgeous tags for this event. There are twenty five companies sponsoring this event and I think the prizes being given away are going to be awesome.
Tag size:  3.50" x 2.50"