Good Saturday morning, My project today was made for the Splitcoaststampers Inspiration Challenge and a Pinterest Floral Arrangement Page was our inspiration site this week.  I was inspired by so many of the floral arrangements that I sort of went into inspiration overload.  I've mentioned in my blog posts many times that I grew up in my mother's flower shop.  Browsing down through all of the gorgeous floral arrangements on this site made me homesick for my parents.  My mother would have loved my simple floral design made with the tulips, lilac and lily of the valley.   I started with three different flower sets, Impression Obsession Lily of the Valley, Penny Black First Blooms and Elizabeth Craft Designs Lilac.  I cut foliage using Impression Obsession Foliage, My Favorite Things Leafy Greenery and Penny Black Graceful Greenery. The frame was made using My Favorite Things Pierced Rectangle Frames and Stitched Rectangle Scallop Frames.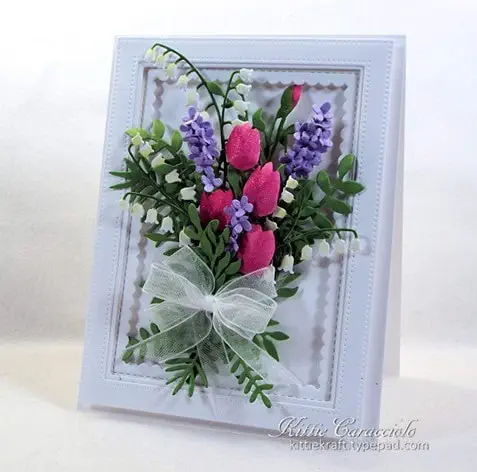 I cut the tulips using hot pressed watercolor paper and colored them using Memento markers and a waterbrush. I used an acrylic block to create a palette, applied ink to the block and picked up the color with my brush and painted the flowers and stems.  The lilac flowers was cut using purple cardstock, formed with a stylus and molding and then attached to the foliage using glossy accents.  The lily of the valley was cut using white cardstock.  The stems were colored using a green marker and I lightly colored the flower with a little washed yellow ink so the flowers would stand out a little against the all white background.  All of the foliage was cut using green cardstock.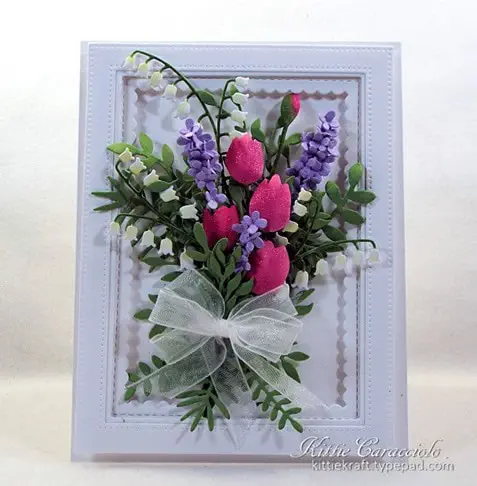 The frame was attached together using mounting tape and then attached to the card base with another layer of mounting tape.  I started creating the bouquet by attaching the larger foliage together using glossy accents.  When I had a substantial foliage base I started tucking the flower stems in between the foliage and attaching them in place with glossy accents.  Once all the stems were in place I attached a large piece of mounting tape to the back of the bouquet and attached it to the card base.  I attached a few small pieces of foliage to the bottom of the bouquet to cover up the raw foliage stems and attached them in place with glossy accents.  I tied a white multi loop bow and attached it to the base of the bouquet with glue dots. I added a touch of sparkle to all the flowers using a  clear Spectrum Noir Sparkle pen.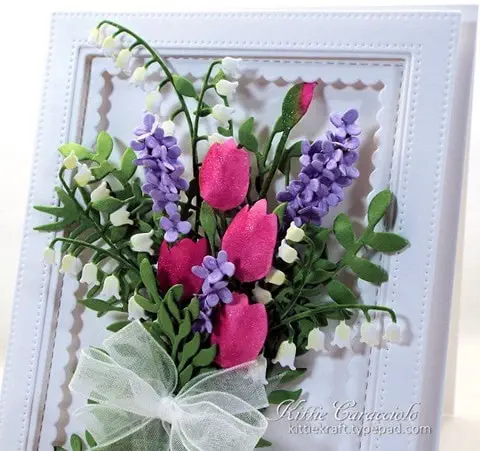 Here's a little closer view of the bouquet.  I love the lilac and tulip colors together.
While I was digging around for flowers and foliage for my project I realized that I have two of the Elizabeth Craft Designs Garden Notes Tulip.  I thought it would be fun to offer it as a special springtime blog candy gift.  All you have to do to qualify for the gift is leave a comment on this post.  You will have until Friday, April 21 at 5:00 pm to comment and I will announce the winner on Saturday morning.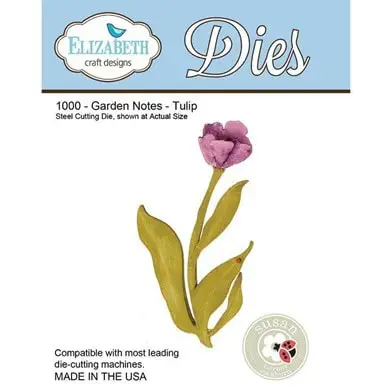 I couldn't resist letting you know that Ellen Hutson is holding a special sale this holiday weekend.  I love a good sale!!!  You can check out the details below. 

Thanks for coming by today and I hope you are enjoying this special Easter holiday weekend.
card size:  5.50" x 4.25"
Save