I have another framed flowers and butterfly card to share with you today made using Rubbernecker 947-01B 2 Part Butterfly #2, 5144-04 Nested Square X Stitch, 5126D Tree Panel # 1, 5114D Mini Flower Stack, and 5131D Square Combo #1 OPC.  Instead of creating my usual clean and simple background I used a colorful paper from the My Mind's Eye Hello Gorgeous pad.  I thought it was the perfect floral background for the butterfly to appear flitting around.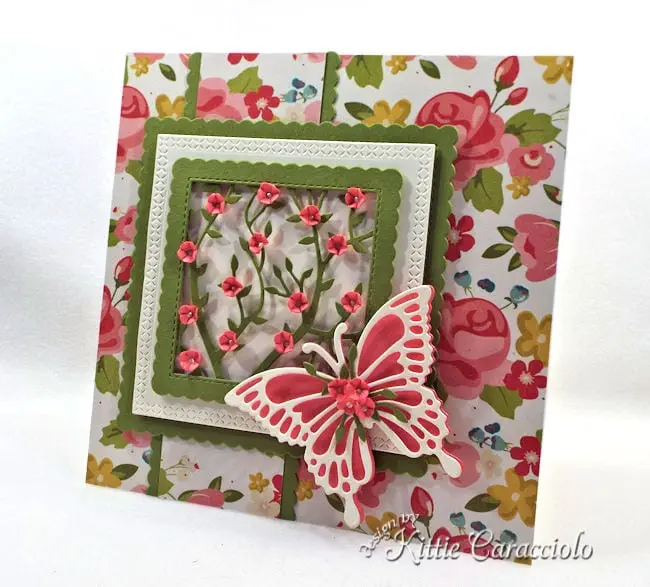 Assembling the Frame and Tree Panel
The square combo frame die and tree panel die were cut using green cardstock.  I applied double tick tape on the back of the smaller scalloped frame layer, attached the tree panel and cut off the excess.  The tree frame was attached to the X stitched layer with thin strips of mounting.  Another layer of mounting tape strips was attached to the back of the X stitched layer and it was attached to the larger scalloped frame.
Assembling the Card Base Layout
I cut a second square combo frame section and a strip of designer paper and then attached the scalloped border to the back of the strip using double stick tape.  I cut the strip in half and attached the sections at the top and bottom of the card using double stick tape.  The framed flowers layer was attached to the card base using thin strips of mounting tape.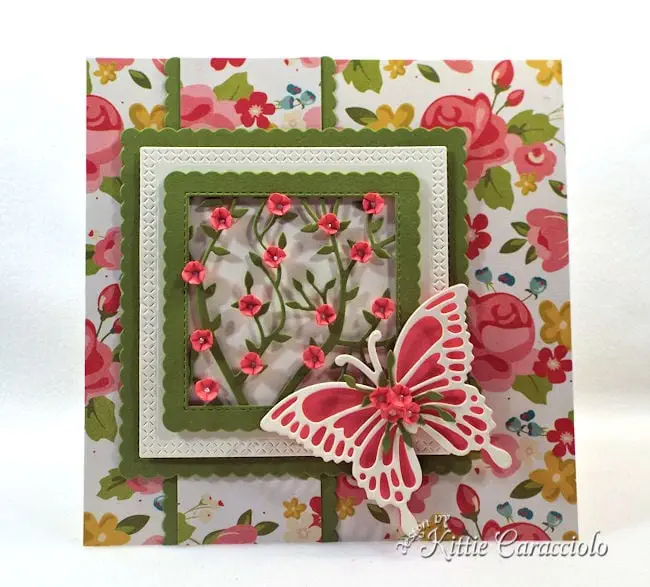 Assembling the Framed Flowers and Butterfly
I formed several tiny flowers using my stylus and molding pad and attached them to the tree branches inside the frame.  The two sections of butterfly were attached together with mounting tape and were attached to the frame using glossy accents.  I embellished the butterfly by attaching a few of the trimmed off tree panel branches and tiny flowers with glossy accents.  I finished by applying pre made cream Nuvo Crystal Drops to the flowers centers with glossy accents.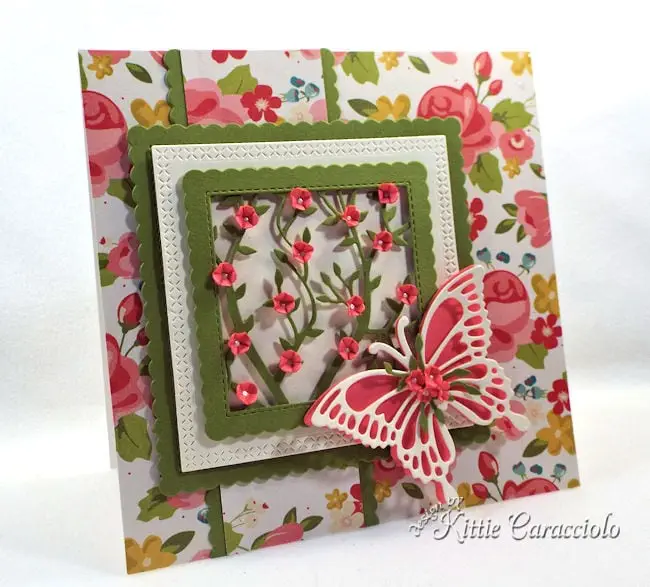 I really like all the texture created by using the scalloped frame and X stitched layer together.  I think it adds interest to the project. Thank you for coming by today.  I hope you have enjoyed seeing my project and have been inspired to create your own framed flowers and butterfly project.
Nested Square X Stitch 5144-04D

Tree Panel #1 Die 5126D

Square Combo #1 OPC Die 5131D

2 Part Butterfly #2 947-01B

Mini Flower Stack Die 5114D

Kittie Kraft basics #1

My Minds Eye HG1013 Hello Gorgeous…

Bazzill Card Shoppe Cardstock, Easter…

Bazzill Card Shoppe Cardstock, Candy…

Neenah Cardstock, Neenah Classic…

Susan's Garden 4pcs. all metal tool set

Large Molding Pad (6.5″ X 12″/16.5mm…

My Sweet Petunia MISTI Laser Etched…

My Sweet Petunia Mini MISTI Laser…

Tonic Nuvo Crystal Drops, Caramel Cream

Be Creative Tape, 7mm (3/10″)

Be Creative Tape, 15mm (3/5″)

Be Creative Tape, 25mm (1″)

Be Creative Tape, 5mm (1/4″)

Be Creative Tape, 3mm (1/8″)

EK Tools, Precision 5 Inch Scissors…

Ranger Non-Stick Craft Sheet

Glue Dots, 3/8″ (4029)

Glue Dots, Mini (3/16″)

Glue Dots, Micro (1/8″)

Scotch Foam Mounting Tape

ATG Double-Sided Refill Tape, 2 pk, 1/4″

ATG Kit, Advanced Tape Glider

Ranger Accents, Mini Glossy Accents

Ranger Accents, Glossy Accents

Creative Expressions Cosmic Shimmer…

Crafter's Pick The Ultimate Glue, 4 oz.

PanPastel Sofft Mini Applicators, 12 pk

Hero Arts Embossing Gun (Wagner)

Tonic Maxi 12 Inch Guillotine Paper…

Teflon Bone Folder

Tonic Comfort 8.5 Inch Guillotine…

Scor-Pal Measuring & Scoring Board 12×12

Scor-Pal Glitter Clean-Up Cloth

Memory Box Dies, Metal Adaptor Plate

Sizzix Accessory – Standard Magnetic…

Sizzix Accessory – Precision Base…

Sizzix Big Shot White & Gray

Dremel 7700-1/15 MultiPro 7.2-Volt…