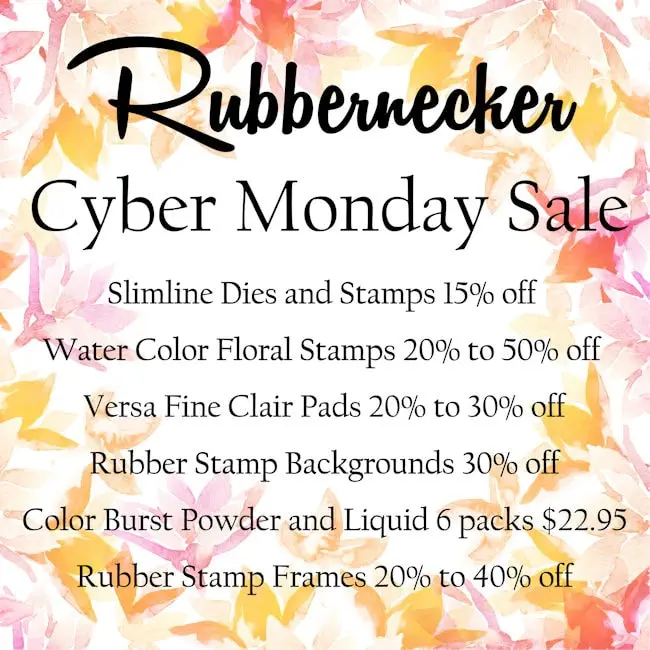 OOh – I am so excited to share today's slimline Christmas window card with you because I feel like it shows off so many of the things I love in a card. The surprise of the little windows, the fun details and the simple beauty of small elements on white space. I have to say that every time Rubbernecker comes out with something new I am blown away by their attention to details and how FUN they make it for me to make cards! And I love that their dies do so much of the "work" for me so I can just be creative! 
To make this card I used the Rubbernecker Slimline Nested Scallop with Stitch, Slimline Peek-a-Boo Fancy Edge, Christmas Mini, Nested Square and Christmas Phrases Large/Small.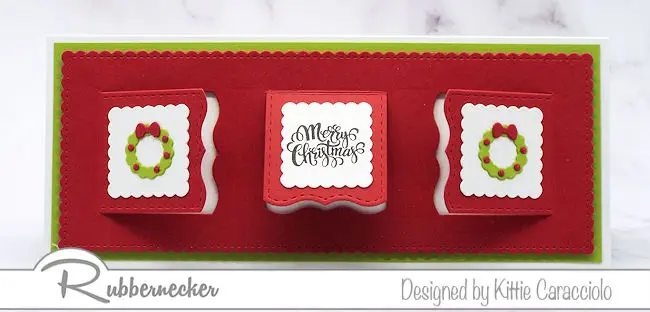 The Slimline and Card Base
Cut a 7.00″ x 8.50 white card base and sore down the center.
Create a 3.25″ x 8.25″ green layer.
Use red cardstock and the largest die in the Slimline Nested Scallop to cut the base.
Lay the red scallop layer back on the cutting platform, line up the Slimline Peek-a-
Boo over the base and cut.
Cut three scallop layers using white cardstock.  Note:  The Nested Scallop set is retired.
Use red cardstock to cut three scallop layers and cut the frame openings using the smallest square die.
Apply ATG adhesive to the green layer and attach it to the white card base.
Use strips of mounting tape to attach the red peek-a-boo window layer to the card base.
Christmas Images and Sentiment
Stamp the sentiment on a scallop layer using black ink and attach the layer to the center window cover.
Attach the two additional scallop layers to the window covers using ATG adhesive.
Insert the small red frames inside the window openings using threads of rolled up 1/8″ double stick tape.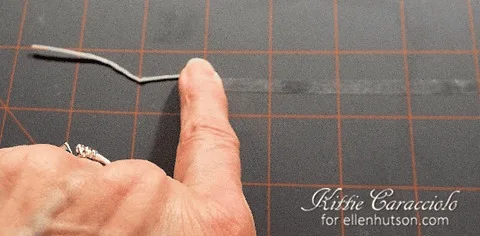 Cut the mini die cuts using red, green, yellow and gold cardstock.
Assemble the mini wreaths pieces together using glossy accents and attach to the front scallop layers.
Assemble the mini Christmas tree and ornament pieces together and attach inside the scallop frames using glossy accents.
Use glossy accents to attach the sections of the bell together and attach inside the scallop frame.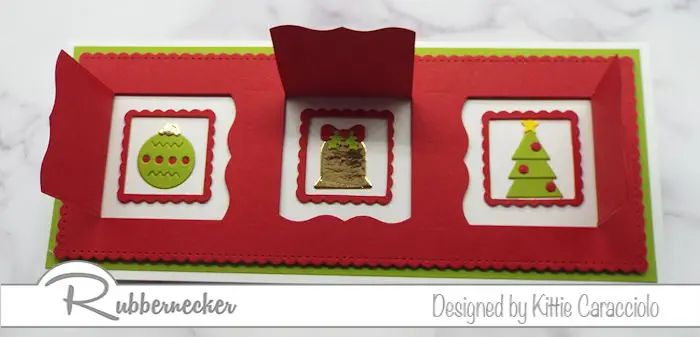 What do you think – can you see yourself making a version of this slimline Christmas window card? Are there other ways you would use those cute windows? Are you inspired by those tiny, adorable Christmas elements? I always love to hear what you think so let me know if and when you try out your own slimline Christmas window cards for those special people!  Be sure to check out the Cyber Monday Sale at Rubbernecker while all the slimline dies and stamps are on sale.  Check out my Slimline Category if you would like to see more slimline inspiration.
5329-01D Slimline Nested Scallop w/…

5332-04D SLI Peekaboo Fancy Edge Die

5338-02D Christmas Mini Die

Nested Square Die Cut Set 5001D

3328 Christmas Phrases Large/Small
| | | |
| --- | --- | --- |
| Sizzix – Paper Sculpting Kit | Scotch Foam Mounting Tape | ATG Kit, Advanced Tape Glider |
| Scor-Tape 1/8″ (3mm), Scor-Pal Tape | Mini Glossy Accents, Ranger Accents | Teflon Bone Folder, Essentials by Ellen |
| Scor-Pal Measuring & Scoring Board 12×12 | Crossover II Fabric & Paper Cutting… | Precision 5 Inch Scissors with… |
It was so much making this slimline Christmas window card.