This double sided open frame card has a fresh little twist!
I never imagined that so many people would love the double sided open frame card I posted here the other day but you all did so of course I had to make another one! This time, I've added a fun little floating detail in the form of that bright red cardinal. I don't know – I might be hooked on making these cards!
To make this card I used the Deckle Frame,  Apples, Pears and Corn set, Apple Cart set, Baskets,  Half Tree, Large Garden Fence, Grass, Small Birds, Leaves and Greenery and Small Flowers #3.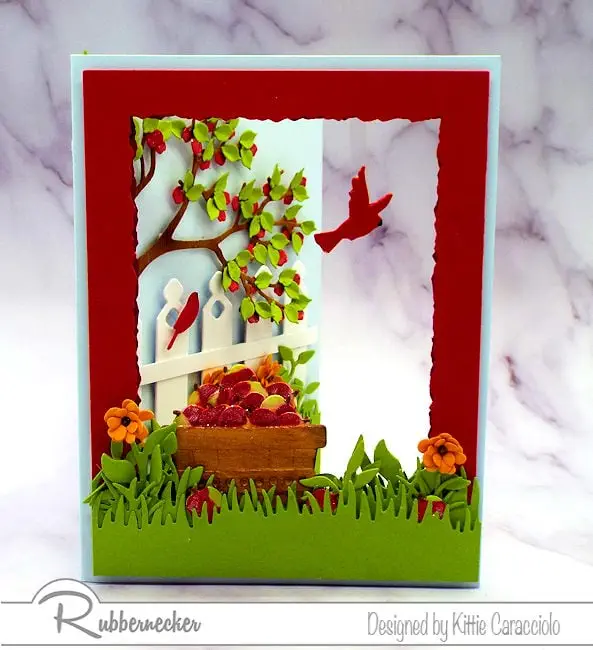 Double Sided Open Frame
I recorded a four part video series back in the fall showing how I made created the double sided open frame card you see below.  Part three of the series shows how I made the Double Sided Framed Opening card base.   I'm sharing a few PRO TIPS from lessons I learned to help me create a better card the second time around.  
Line up and center the frame die over the front of the card and secure it in place with masking tape to prevent a crooked cut.
Secure the card front and back to the work surface to hold it in place while attaching the frames over the open window.
Place the strips of mounting tape on the back outer edge of the frames so it doesn't show when looking at the card from the side. 
Create the front and back trucks to be as close to the exact same size as possible so they line up together perfectly.
Create double sided pumpkins so they appear finished from both sides of the open window.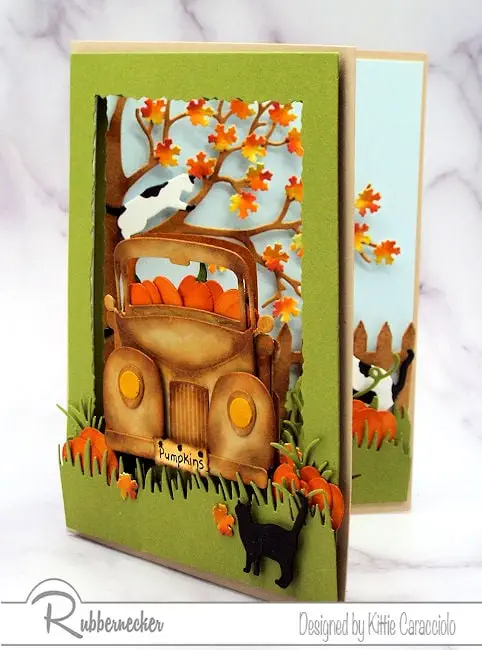 PRO TIPS for finishing this card.
Using a wet baby wipe is a fast and easy way to apply color to tree die cut.
Sofft Mini Applicators are perfect to use for adding touches of color to small die cut pieces like the apples and basket.
Using a molding pad and leaf tool to form the leaves will add dimension and make them more interesting. Use your fingers to bend the leaves a little if you don't have these tools.
Applying a few pieces of mounting tape to the top back of the pickets will hold the fence away from the base for dimension.
Applying double stick tape to the bottom back of the fence will allow it to be perfectly flat to eliminate bulk when adding the grass sections.
Tiny pop dots placed on the back of a few of the leaves will help secure the branches to the card base.
Adding sprigs of grass and branches of foliage will soften the scene for a more natural appearance.
Using animals or birds to a scene will add more interest and bring it to life.
Using a small strip of acetate attached between the frame allowed me to float the bird. 
Most floating frame cards rely on a sheet of acetate to secure the floating elements. Thanks to my apple basket being sized the way it is along with all the grounding elements, you don't need the acetate to keep your truck in place!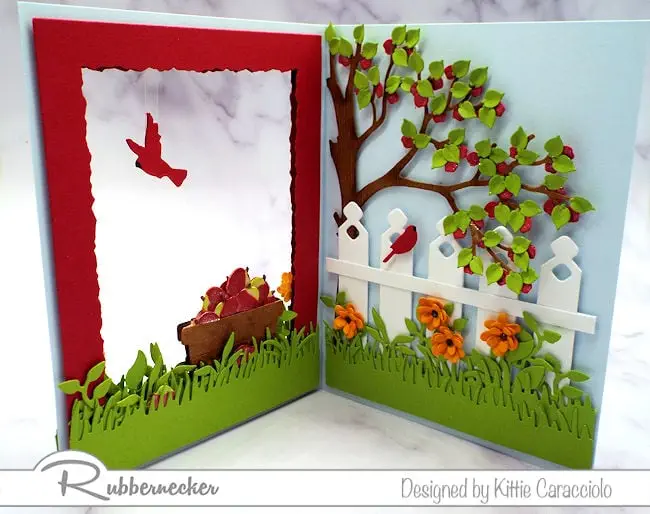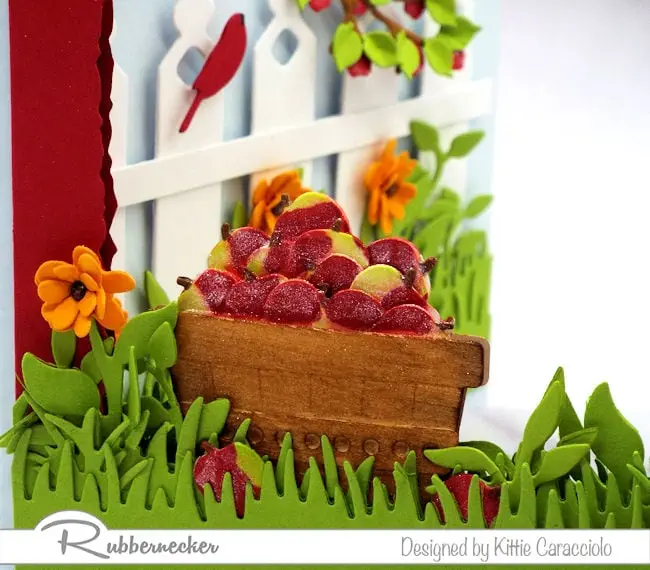 Check out the links below to see all four posts showing how I created the double sided open window truck card.
5176-01D Deckle Frame Die

5403D Half Tree Die

5215-02D Baskets Die

5401-02D Large Garden Fence Die

5215-06D Apples Pears and Corn Die

5209-04D Apple Cart Die Cut

Tabed Grass Set Die Cut 5152-03D

5210-02D Grass #2 Die Cut

5309-09D Small Flowers #3

Small Birds Die 5147-06D

5309-04D Leaves and Greenery Die
Making a double sided open frame card is so much easier than you may think.  I does take a little time but the outcome is so worth it.