If you know someone who loves vintage vehicles, this Model A truck die cut card will be a HIT!
The interest in vintage vehicles doesn't seem to be losing any steam – if anything, people are more attracted to design elements that feature old cars and trucks. I have featured several projects where these classics are the focus and I get lots of feedback that people just love them (Thank You!). When Rubbernecker came out with this new set I just knew I had to add it to my collection and create a Model A Truck die cut card for you to see how terrific the truck comes out.
Now I know that there are plenty of women who love these fabulous old workhorse vehicles, but there's something about this motif that lends itself perfectly to cards for men. I chose a simple, classic color palette of red, white and black and turned this into a Father's Day card. I die cut the parts and pieces for the Model A truck out of white card stock so I could custom color them and add that vintage patina. Let's get to the details!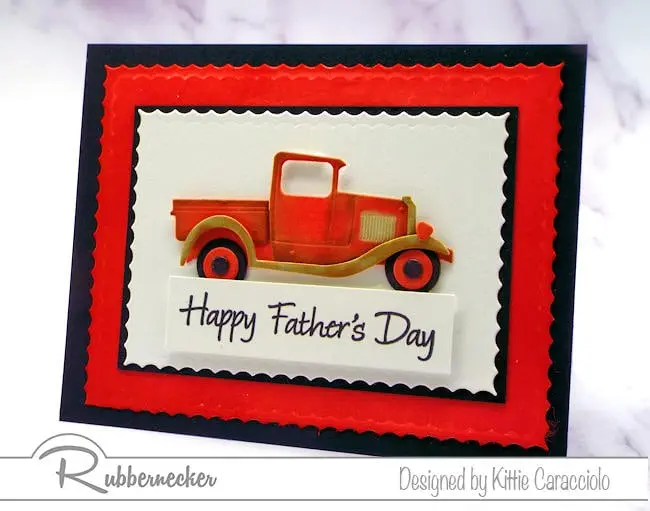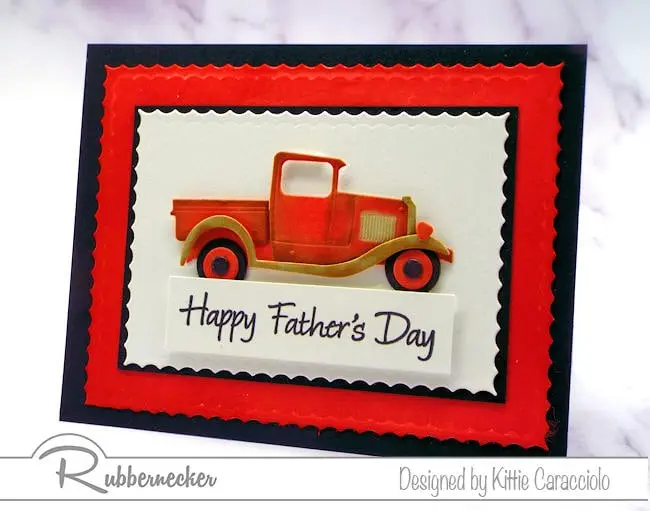 The Card Base Layers
Cut a white A2 sized card base and a black 5.50″ x 4.25″ layer.
Attach the black layer to the white card base using ATG adhesive.
Cut a black layer and white layer using the Inside Scallop Nested dies and a black layer to fit behind the white scalloped layer.
Apply ATG adhesive to the back of the red layer and attach directly to the black card base. 
Attach the small white layer to the black layer using ATG adhesive and then attach them to the red layer on the card base using ATG adhesive.  Pro Tip:  I attached all the layers flat to each other since there were four of them and I knew I would be popping up the truck and sentiment layer with mounting tape.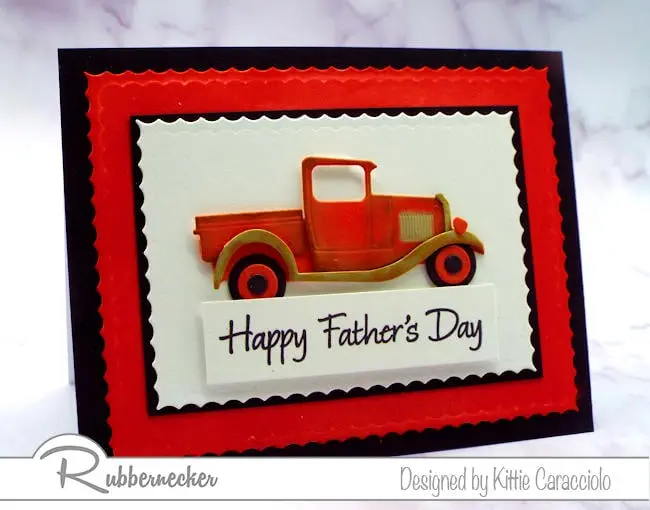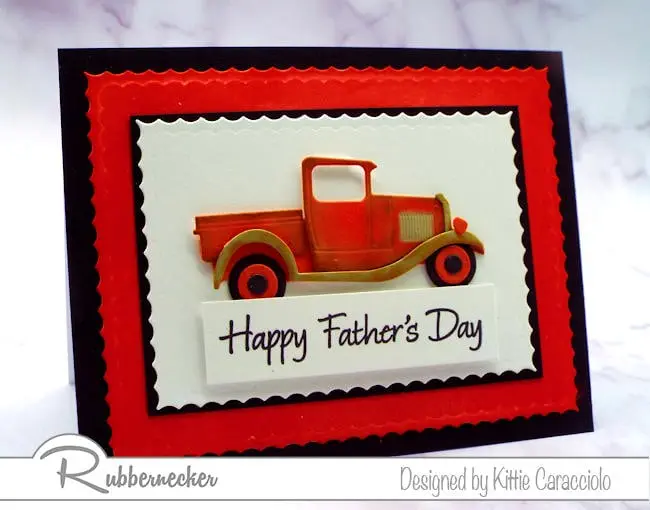 The Truck and Sentiment
Cut the truck sections using white cardstock and the tire and hubcap using black cardstock.
Apply a light shade of red to the whole truck base using a mini applicator and leaving the side engine vent uncolored.  
Color the engine vent, fender and radiator using light tan and brown ink and mini applicators.  
Attach the truck bed and cab to the truck base using rolled up double stick tape.  Pro Tip:  Rolled up tape creates a thinner attachment for the dies compared to using mounting tape.  The thickness of mounting tape holds the parts further away from the base and makes them appear unnatural.  
Attach the tires, wheels and hub caps together using glossy accents and attach them to the truck base using glossy accents.
Apply rolled up double stick tape to the fender and radiator and attach to the truck base.
Attach the red headlight to the fender using glossy accents.
Secure the stamp and white strip of cardstock in the MISTI and stamp using Nocturne ink.
Attach the sentiment layer to the card base using a strip of mounting tape.
Tuck the truck tires in behind the sentiment layer and use strips of mounting tape to attach the truck to the card base.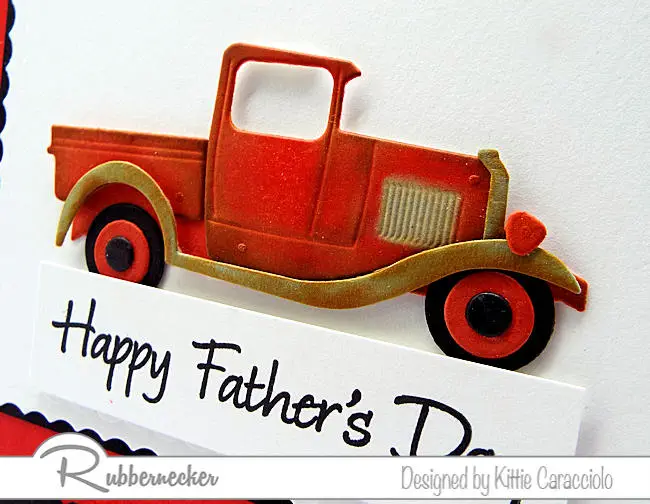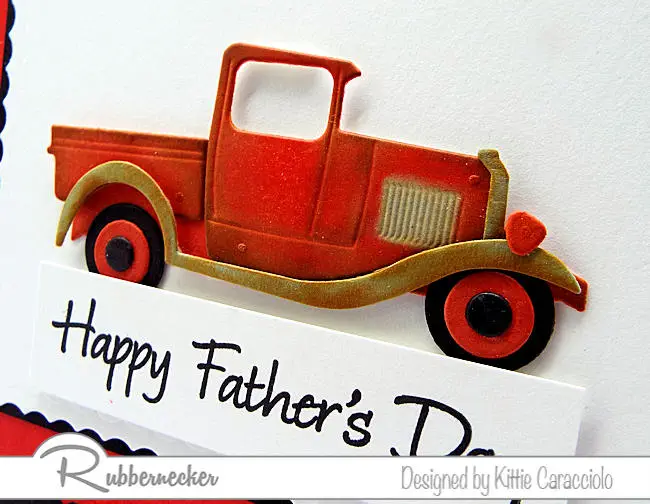 Truck cards are so ideal to use for masculine cards; even if your guy isn't a motorhead, he will appreciate the design!  You can see lots more truck card inspiration in my Truck Category.
5510-04D Model A Truck Die

5305D Inside Scallop Nested Dies

3419 Dad Phrases

Color Fuse Set #4

Color Fuse Set #3
The Color Catalog by Sarah Renae Clark

Sizzix – Paper Sculpting Kit

VersaFine Clair Ink Pad, Nocturne

PanPastel Sofft Applicators 12/Pkg

Mini MISTI – Most Incredible Stamp…

New MISTI Stamping Tool – The Most…

Scrapbook.com – Magic Mat – Standard…

Scrapbook.com – Magic Mat – Standard…

Crossover II Fabric & Paper Cutting…

Amazon.com : Dahle 550 Professional…

Scotch Advanced Tape Glider & Tape

Mini Glossy Accents, Ranger Accents

Amazon.com: 1000 Pieces Foam Sticky…

Amazon.com: Mini Foam Dots…

Amazon.com: Scotch 1/2-Inch by…

Teflon Bone Folder, Essentials by Ellen

Scor-Pal Measuring & Scoring Board 12×12

Glue Dots, Mini (3/16″)

Amazon.com : Accent Opaque White 8.5"…
I love the classic details on this Model A truck die cut card and when all assembled, this design is so rich it can just stand on its own. If you are or know someone who is a vintage truck fan, this new set should be on your list!