Piercing dies for cards can add that last little touch to your card backgrounds so easily!
In this post, I mentioned that I am loving using the new piercing dies for cards that Rubbernecker recently released. Their pierced cover dies are just the right size and scale to be able to create amazing backgrounds (and other elements, of course!) that add that last little detail that can take a card from winsome to WOW!
This card is a perfect example. I could have left that lavender panel alone and this card would have been just adorable. By adding that design I thought was reminiscent of wallpaper behind the focal element of the window, I let the background add to the design impact without adding any distraction. This is why overall patterns work so well as card background and these new pierced background dies – or cover dies – are just perfect! NOTE: These dies are called "cover dies" because they cover a whole card front. So they are perfect for backgrounds!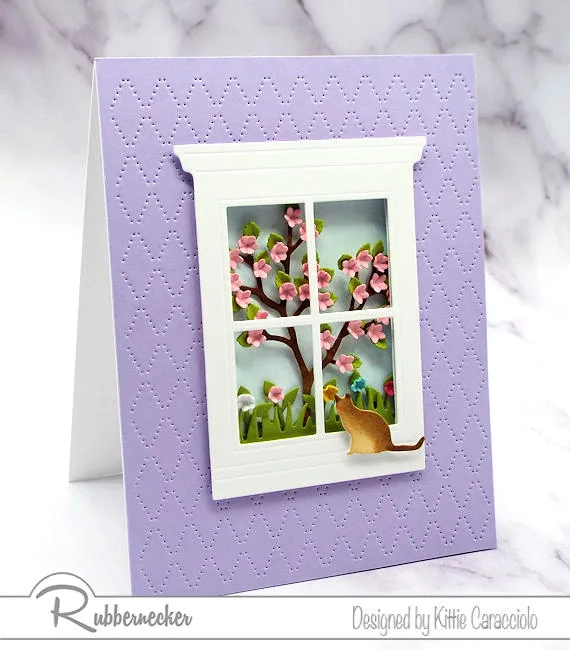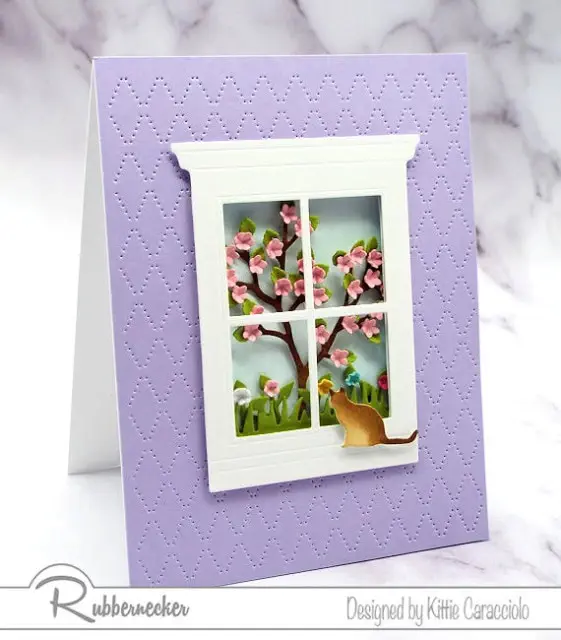 The Card Base and Window
Use white cardstock to cut the A2 sized card base and Window 4 Pane and purple cardstock for the pierced.
Use the purple layer to cut the Diamond Pierced Cover and attach it to the card base using ATG adhesive.
Place the window die on the card base and use it as a stencil to draw pencil lines as a guide for cutting the opening.
Place the card base on a cutting mat.
Use a craft knife to cut about an 1/8′ outside the pencil lines.  Note:  You could use a rectangle die to cut the window opening if you have one that is just the right size.
Use green cardstock to cut a Grass layer and attach it to the back of the window using double stick tape.
Apply mounting tape to the back of the window, line it up over the opening and attach it to the card base.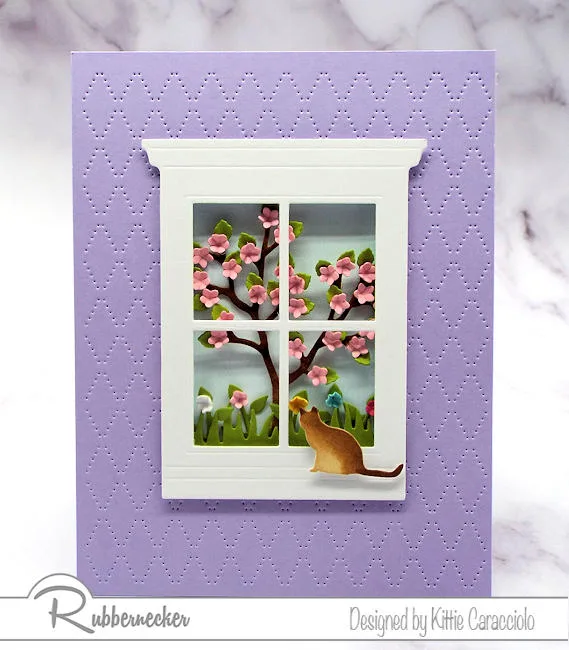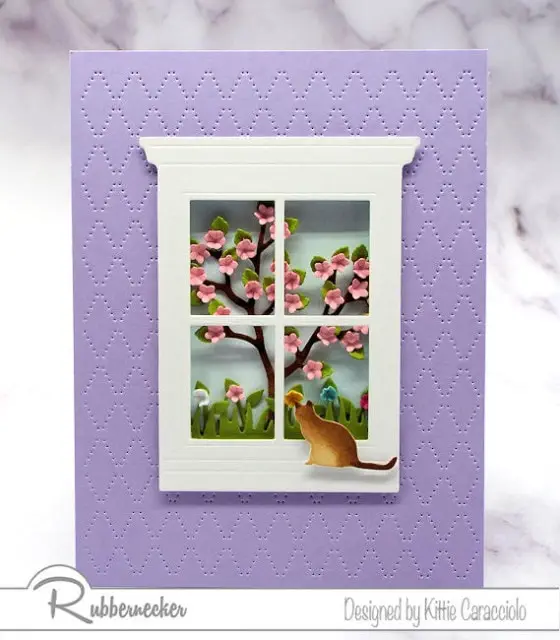 The Window Scene
Cut a light blue background layer to place inside the card to cover the window opening.
Use Kraft cardstock to cut the two largest branches off the Half Tree and color it using a wet baby wipe and brown ink.
Use pastel cardstock to cut Tiny Flowers #2 and green cardstock to cut the Tiny Leaves #2.
Place the flowers face up on the molding pad and gently push down in the centers using a small tipped stylus.
Place the leaves on the molding pad and lightly form them by pushing down on them with a small round stylus.
Attach the flowers and the leaves to the branches using glossy accents.
Use rolled up double stick tape and tiny pop dots to attach the tree to the background layer.
Cut several Flower Stems using green cardstock and attach a single flower to each one of them using glossy accents.
Attach the flower stems to the background layer using glossy accents.
Apply strips of mounting tape to the window opening on the inside of the card base.
Line up the window opening over the tree and flower background and attach it to the inside card base. 
Finish by breathing a touch of life to the scene by adding a cat looking in the window.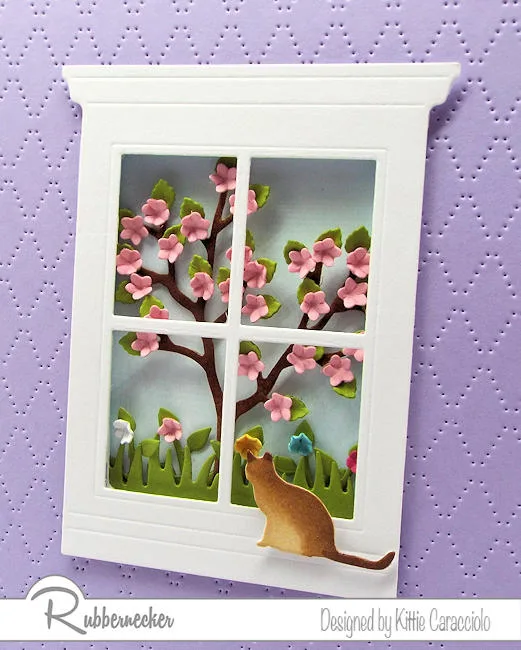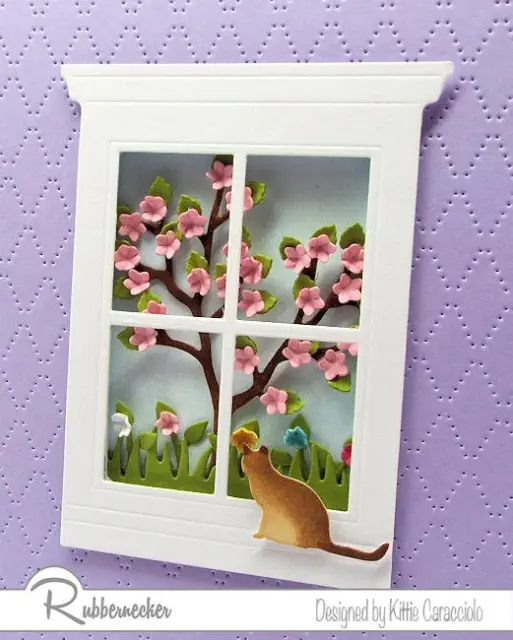 Check out my Cut Away Window post and video to see the steps for making the open window. And, you can see actual step by step photos of the process in my Window Card post.  I have loved making window cards since I purchased my first one from Poppystamps many years ago  You can see how much I love them by taking a look at the 116 projects in my Window Card Category. .  
5511-02D Dimond Priced Cover Die

5157D window 4 pane

5403D Half Tree Die

Tabed Grass Set Die Cut 5152-03D

Cats Die Cut 5142-09D

5422-03D Tinny Flowers #2 Die

Flower Stems Die 5147-05D
The Color Catalog by Sarah Renae Clark

Sizzix – Paper Sculpting Kit

Paper Blossom Tool Kit 4/Pkg

Paper Blossoms Molding Mat

Scrapbook.com – Magic Mat – Standard…

Scrapbook.com – Magic Mat – Standard…

Crossover II Fabric & Paper Cutting…

Amazon.com : Dahle 550 Professional…

Scotch Advanced Tape Glider & Tape

Mini Glossy Accents, Ranger Accents

Amazon.com: 1000 Pieces Foam Sticky…

Amazon.com: Mini Foam Dots…

Amazon.com: Scotch 1/2-Inch by…

Teflon Bone Folder, Essentials by Ellen

Scor-Pal Measuring & Scoring Board 12×12

Glue Dots, Mini (3/16″)

Amazon.com : Accent Opaque White 8.5"…

Have you snapped up any of these three new piercing dies for cards yet? You will probably want to because they are such an easy and beautiful way to add that extra detail that can really make your cards pop!