Today I am sharing how to create a sweet autumn scene on a handmade card using a new die from Rubbernecker along with some basic ones you probably already have!
Here in Florida, we don't really get a lot of colorful changes in the Fall but I sure do think it's pretty. And when I saw this new Wooden Bench Swing die set I pictured an Autumn scene on a handmade card because, well, that's what I do. I make my own vistas and landscapes on cards when I can't see them outside my window!  I added the rest of the details with the Outside Scallop Frame, Half Tree, Grass, Pumpkins and Ivy, Tiny Leaves #1 and Small Birds dies. If you are a die hard card maker like I am, you probably have other dies that you can substitute.
Let me share with you how I made this so you can grab that sweet little wooden bench swing and make all kinds of pretty cards with it.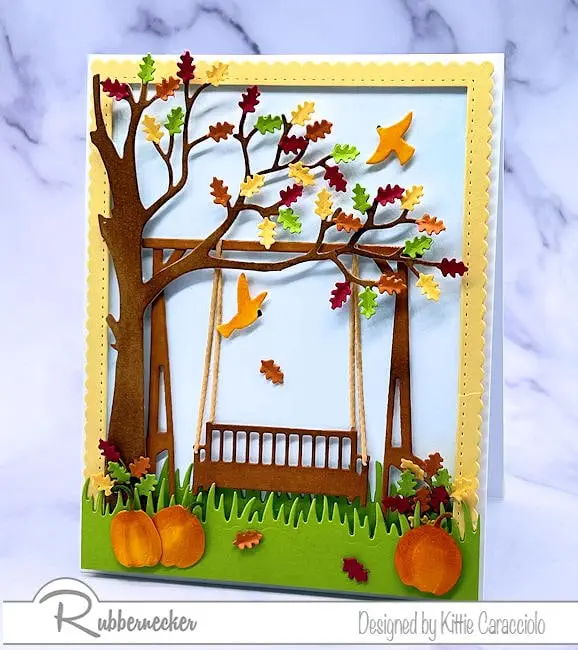 Card Base, Frame and Grass
Use white cardstock to cut an A2 sized card base and a 5.25″ x 4.00″ layer.
Apply Beachside ink to the white layer using a large blender brush and attach it to the card base using ATG adhesive.
Use green cardstock to cut two sections of grass.
Cut the scalloped frame using yellow cardstock.
Attach one grass section to the blue card base using double stick tape.
Apply strips of mounting tape to the back of the yellow frame and attach it to the card base.
Finish by attach the second grass section to the front of the frame using double stick tape.
Color the Bench Swing and Tree
Use Kraft cardstock to cut the bench swing and tree.
Apply Pecan ink to the tree and swing parts using a wet baby wipe and allow to set and dry or heat dry with heat gun.  Pro Tip:  Applying ink with a wet baby wipe is so much easier than coloring with markers or applicators.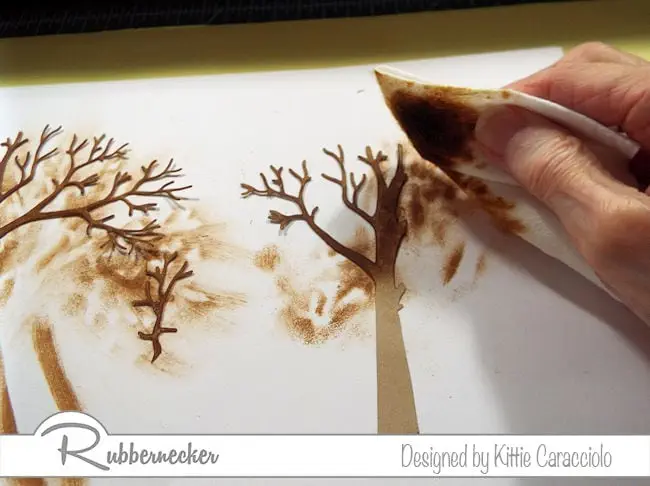 Assemble the Swing
Attach the swing frame sections together using glossy accents.
Use glossy accents to attach the robe and bench to the swing frame.  Note:  Just for fun I used string instead of the die cut parts for a more realistic look.  
Apply ropes of rolled up double stick tape to the back of the swing frame and bench and attach them to the card base.  Pro Tip:  Rolled up strips of double stick tape is perfect for attaching thin pieces of cardstock like the swing frame.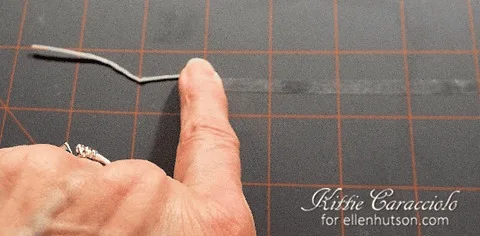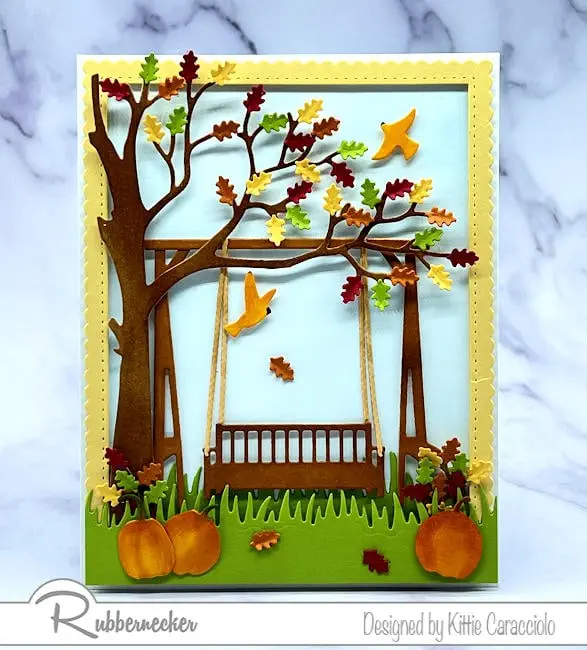 Tree and Leaves
Cut the colorful leaves using dark red, yellow, green and orange cardstock and place them face up on the molding pad.
Form the leaves by gently pushing down in the center of each leaf using a leaf tool or small tipped stylus.  Pro Tip:  Forming the leaves adds a perfect touch of dimension and interest to the tree.
Attach the leaves to the branches using glossy accents.  
Apply a strip of mounting tape to the back of the tree trunk and tiny pop dots to the back of several key leaves.
Tuck the tree in behind the front grass section and attach it to the card base.  Note:  I cut off the lowest branch of the tree so it wouldn't hang too far over the swing. 
Finish your Autumn Scene
Use yellow cardstock to cut pumpkins and small birds. 
Color the pumpkins using Citrus, Pumpkin and Pecan ink and mini applicators and the birds using Citrus ink.
Attach a few leaves to the branch section that was cut off in the step above using glossy accents,. 
Cut the branch into two sections, tuck them in behind the grass at the foot of the tree and swing and attach using glossy accents.
Attach a few falling leaves to the sky and ground area using glossy accents.
Attach the birds to the sky area using small pieces of mounting tape.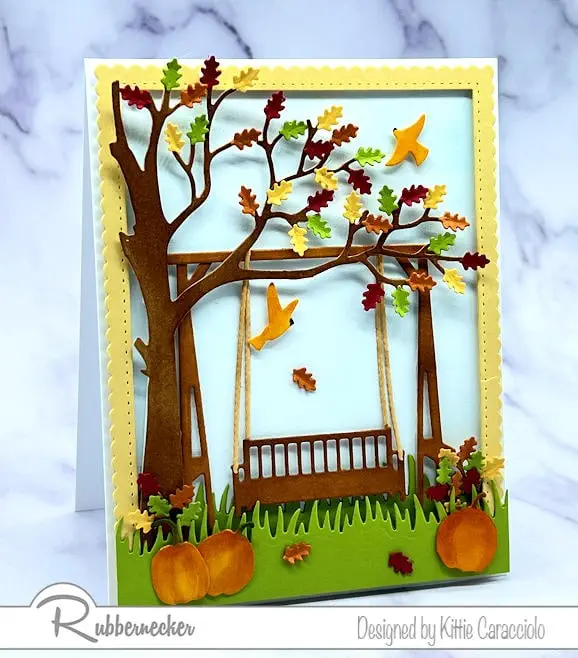 Here are the things *I* used today – as I mentioned, shop your stash for what you might already have and whatever you are missing, add in with this adorable swing die – I can see this being used a LOT for garden cards!
5517-01D Wooden Bench Swing Die

5500-02D outside scallop frame Die

5403D Half Tree Die

Tabed Grass Set Die Cut 5152-03D

5215-05D Pumpkins and Ivy Die

5162-04D Tiny Leaves

Small Birds Die 5147-06D

Color Fuse Set #2

Color Fuse Set #3

Color Fuse Set #9
| | | |
| --- | --- | --- |
| The Color Catalog by Sarah Renae Clark | Picket Fence Studios – Tools – Life… | PanPastel Sofft Tools – Mini… |
| Scrapbook.com – Magic Mat – Standard… | Scrapbook.com – Magic Mat – Standard… | Crossover II Fabric & Paper Cutting… |
| Amazon.com : Dahle 550 Professional… | Susan's Garden Ultimate Tool Kit | Sizzix – Paper Sculpting Kit |
| Scotch Advanced Tape Glider & Tape | Mini Glossy Accents, Ranger Accents | Amazon.com: 1000 Pieces Foam Sticky… |
| Amazon.com: Mini Foam Dots… | Amazon.com: Scotch 1/2-Inch by… | Teflon Bone Folder, Essentials by Ellen |
| Scor-Pal Measuring & Scoring Board 12×12 | Glue Dots, Mini (3/16″) | Amazon.com : Accent Opaque White 8.5"… |
I am betting you have enough goodies in your stash to make your own Autumn scene on a handmade card. This little "snapshot" gives you all the vibes of the beautiful Fall season and invites you to come and plop down, swing back and forth and spend some time relaxing. JUST the thing to send as a great all occasion card!