I love how this handmade coffee card with patterned paper has so much detail with so little work!
I love the slightly vintage style of Rubbernecker's Coffee Pots and Cups die set and I adore the designs in their Welcome Spring 6×6 Paper Pad. I decided I wanted to combine those in this handmade coffee card with patterned paper and I am so happy with how it turned out. And it was SO easy! I chose a card stock color that coordinated beautifully with that pretty retro-modern floral pattern, made a frame using Rubbernecker's Nested Rectangle with Square Holes and Nested Rectangle dies and added a sentiment from their Coffee Girls set. I love this so much I might just make one using more of the pretty patterns in that paper pad! Pro tip: Using the patterns with the smaller designs helps create that look of china on your cute little coffee pieces. See this card for another fun example!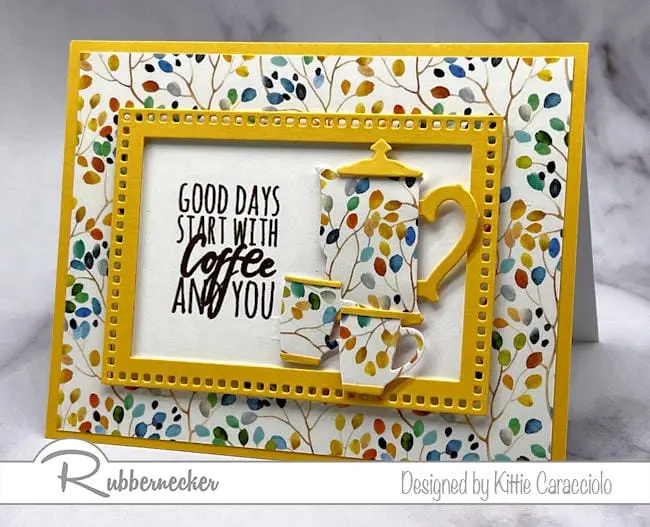 Wait until you see how quick and easy this card is!
Card Base and Framed Sentiment
Use white cardstock to cut an A2 sized card base and a 5.50″ x 4.25″ layer using mustard cardstock.
Cut a 5.25″ x 4.00″ layer a piece of the Welcome Spring paper pad.
Cut a mustard layer using the third size of the Nested Rectangle with Holes. 
Place the mustard layer on the cutting platform, line up the fifth die from the Nested Rectangle set, secure it in place with masking tape and cut the frame opening.
Cut a white layer to fit behind the frame opening.
Secure the white layer and the Coffee Girls sentiment stamp in the MISTI and stamp the image with Versafine Clair Pinecone ink.
Apply thin strips of mounting tape to the back of the frame and attach it to the sentiment layer.
Attach the frame and sentiment to the card base using ATG adhesive.
The Coffee Pot and Coffee Cups
Cut the coffee pot and coffee cups using the designer paper and mustard cardstock.  Pro Tip:  The paper in the Rubbernecker paper pads are 80# and work great to use for die cutting.
Attach the pot handle to the back of the pot using glossy accents.
Use a thin rope of rolled up double stick tape to attach the pot lid.   Pro Tip:  Rolled double stick tape is thinner that mounting tape.  It allows you to add a touch of dimension to a piece like the pot and lid.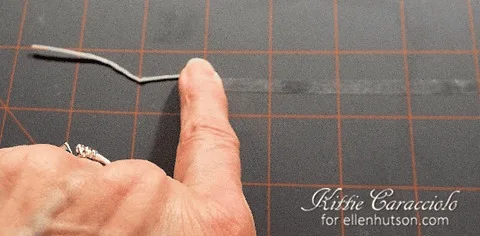 Cut off the brim and base of the set of mustard coffee cups and attach the pieces to the cups using Connect glue.
Apply a large piece of mounting tape to the coffee pot and attach it to the sentiment layer.
Finish by attaching the coffee cups to the base and frame using small pieces of mounting tape.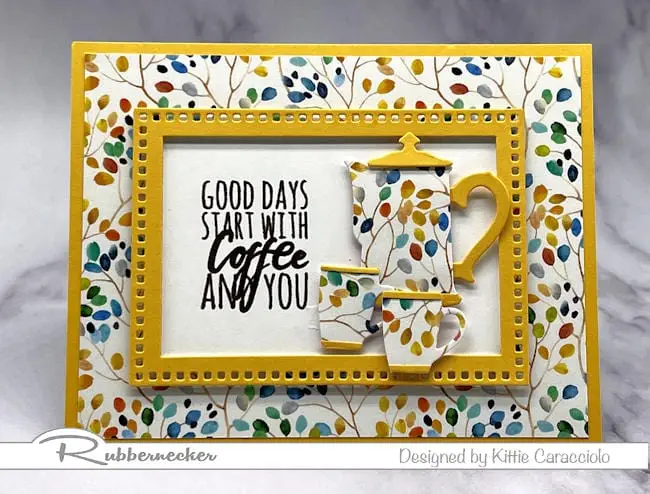 Can you believe that's all you need to do to make this gorgeous handmade coffee card? Here's what I used today from Rubbernecker:
5602D Nested Rectangle with Square…

5607-05D Coffee Pots and Cups Die

3331 Coffee Girls Set

2016 Welcome Spring Paper Pad
And then for all the everyday items that I use over and over you can check out all my other favorite crafting tools here.
Making a handmade coffee card with patterned paper is truly that easy and you can see how gorgeous the results are! Does this inspire you to try this out? Let me know if you do and which of the patterns you used!