Grab my three easy tips for how to make fall leaf die cuts look real and WOW up your handmade cards!
I love adding realistic details to all my die cut elements and today I want to share my three easy ways for how to make fall leaf die cuts look real enough to be the only elements on your cards. Take a look at this one – it's a simple white on white ring with just these lifelike and gloriously colored fall leaves. A couple of die cut twigs and a simple stamped sentiment and it's ready to go! 
You can spend an afternoon in front of your favorite fall show, binge watching and making these lifelike fall leaves by the batch. Then you can use them in a bunch as I did here or as single detailed elements on other projects. Either way, you will have fun making them and even more fun deciding where to use them! All I needed for this particular card were these leaves made with Rubbernecker's Leaf Trio, their Half Tree die to snip the twigs from and the greeting from their Splatter Leaves Clear Set.  Both Nested Circle sets used are retired but you can use any circle sets to make your own ring OR substitute any other shape. Really, it's all about the leaves!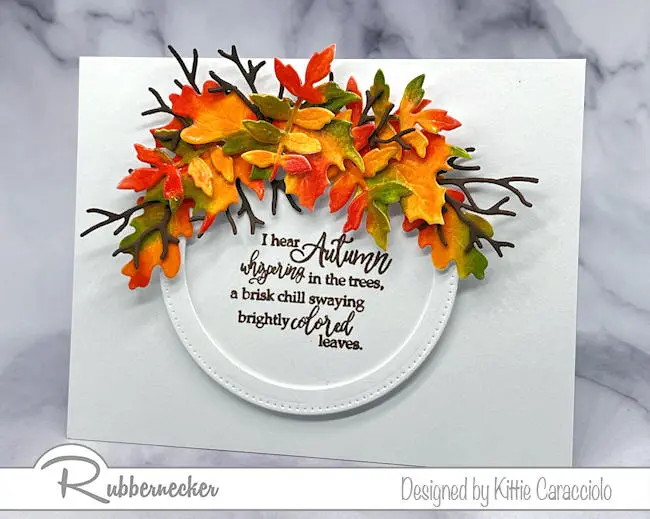 Let me take you through the making of this project including those three easy tips to take your die cut fall leaves from flat to fabulous!
Card Base and White on White Frame
Use white cardstock to cut an A2 sized card base and circle layer.
Line up the circle layer on the cutting platform, secure the smaller circle die with masking tape and run through the machine to cut the frame. (NOTE: You can use circle dies or any of the nesting die sets from Rubbernecker to make your dimensional element. The simpler it is, the more the leaves take center stage. If you don't want to bother with a frame style element, cut a decorative layer, stamp it and pop it up on your card with foam tape adhesive.)
Secure the card base in the MISTI or your stamp positioner and use the circle frame to line up where the sentiment should be stamped.
Use Acorn Versafine Clair ink to stamped the sentiment, apply clear embossing powder to the sentiment and heat.
Apply pieces of mounting tape to the back of the frame and attach to the card base.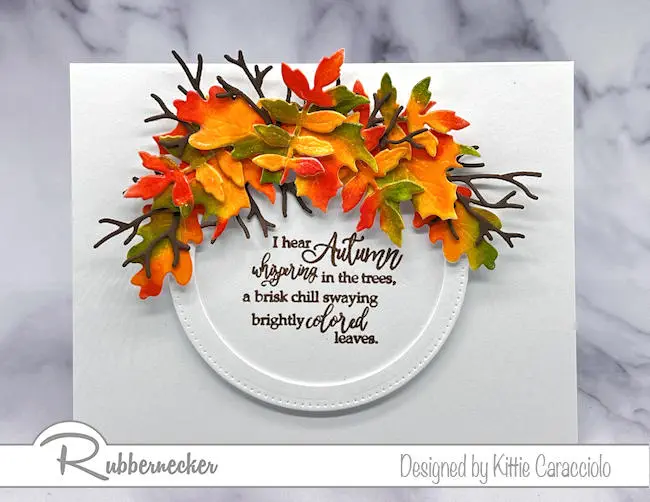 Making the Die Cut Fall Leaves 
Use white cardstock to cut the Leaf Trio leaves.
Tip 1: Use mini applicators to apply Color Fuse Apricot, Crimson and Fern ink in patches on each leaf.  Check out my  Coloring Leaves video on YouTube to see how I apply color.  It shows a different leaf but the concept is the same. Do not worry about creating a pattern or any order to your color application – the random patches of color and the way they blend together is a big part of what makes these leaves look so real.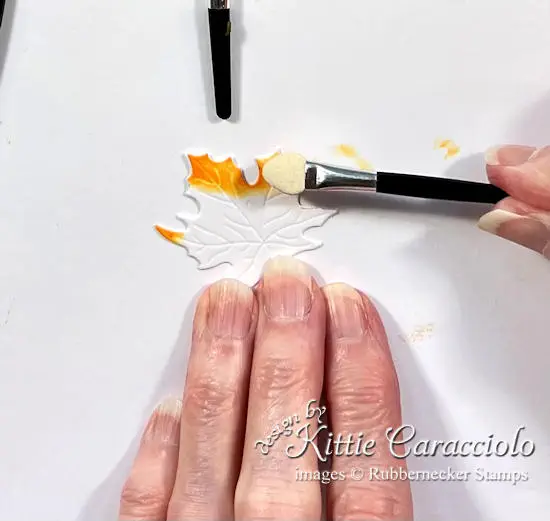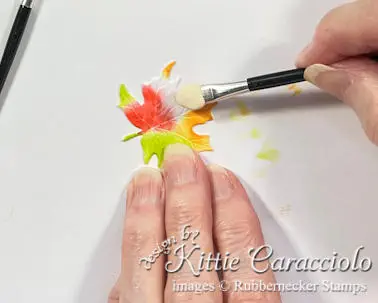 Apply Citrus ink over the whole leaf using a mini applicator to blend the three colors together and to soften the lines where the colors meet.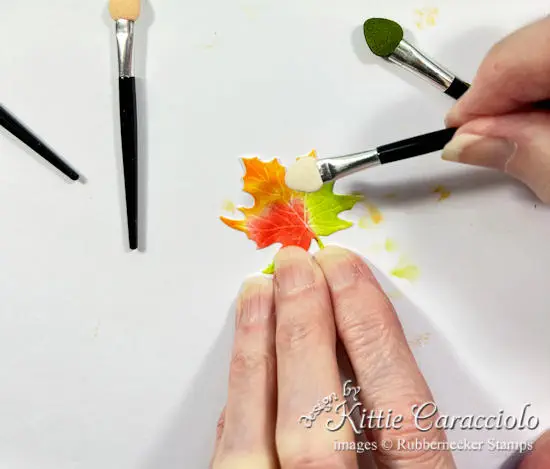 Apply VersaMark to each leaf, apply clear embossing powder and heat.  Tip #2 and a Pro Tip:  Embossing the leaves enhances and brightens the depth of color. Real fall leaves do have lots of intense color AND when you really look at them, many have a sheen to them. Adding the clear layer over the link adds both of those natural effects.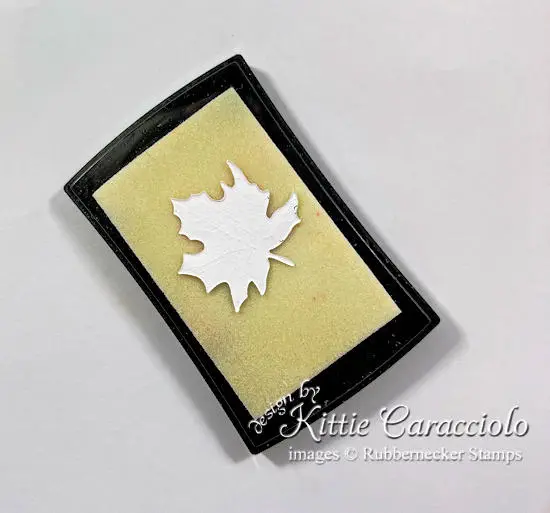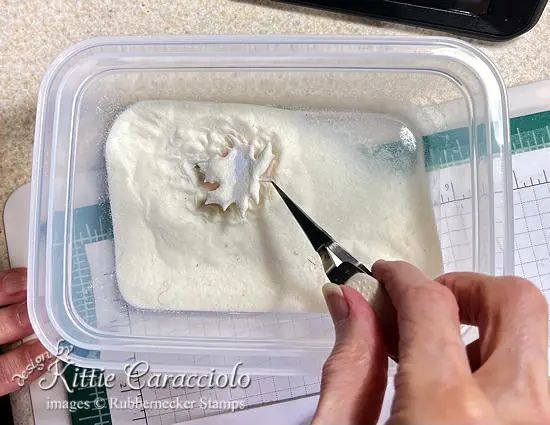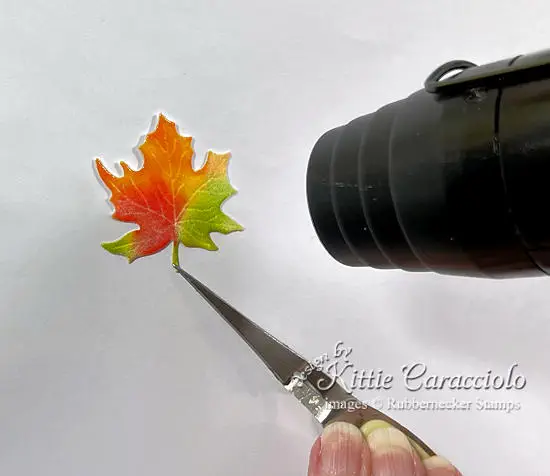 This side by side picture shows how the clear embossing adds more depth of color and brightness.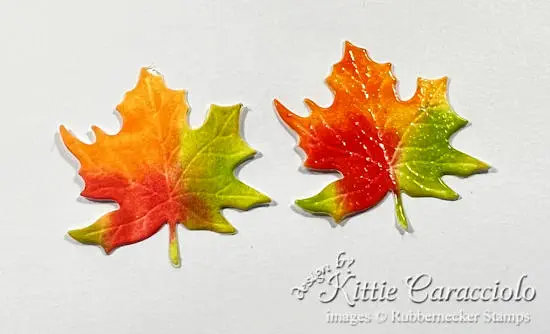 Here are the specific Color Fuse Inks I used for these leaves.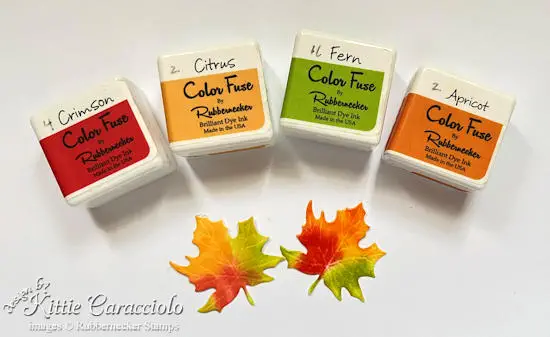 Making The Fall Leaf Arrangement
Tip #3 – GENTLY bend the leaves just so they aren't completely flat (don't "shape" them because you can crack your clear embossing powder). This very gentle addition of the tiniest bit of dimension adds so much when you put all the leaves together. Apply glossy accents to the back of each leaf and begin attaching them to the frame.  Pro Tip:  I began by attaching the first leaves further down on the frame and then continued to attach them to each other to build the arrangement.
Cut the top section of the Half Tree using dark brown cardstock.
Trim off the branches and tuck them under the leaves and attach using glossy accents.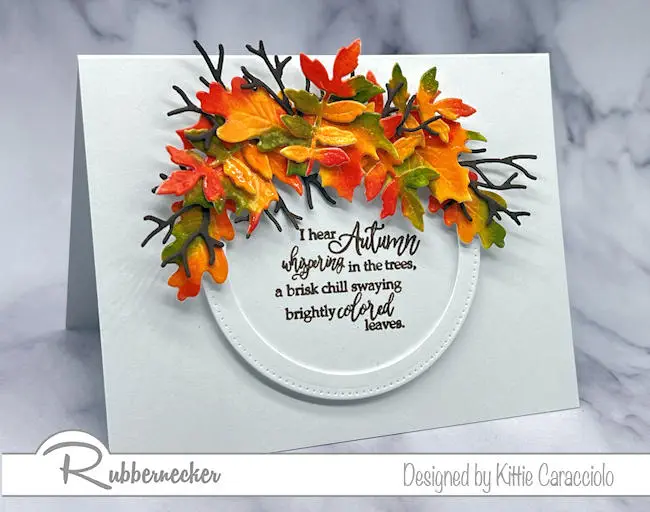 There you have it – what looks like a handful of tiny, perfect fall leaves decorating a simple white element. And you have a whole vibe!
Here's what I used from Rubbernecker, including the Color Fuse Ink colors I chose for their seasonal pop:
| | | |
| --- | --- | --- |
| 5510-06D Leaf Trio Die | 5403D Half Tree Die | 3019 Splatter Leaves |
| Color Fuse Set #2 | Color Fuse Set #4 | Color Fuse Set #11 |
For those things that I use all the time, I've got all my other favorite crafting tools here.
Now you've got the three super easy ways for how to make fall leaf die cuts look real and there isn't a fall card out there that can compete with what YOU are going to make! Try it out and let me know what you think!