Good Sunday morning.  I've been having fun creating scenes the last several days and getting my fingers inky.  For my project today I used the Memory Box Orchard Tree Frame and Debutante Frame paired with the Impression Obsession Birdhouse Set and Small Bird Set.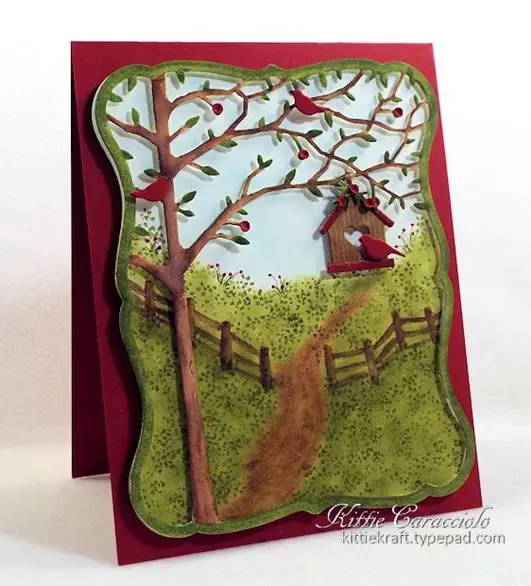 Both the Orchard Tree and Debutant frames were cut using Fabriano Artistico watercolor paper. The tree and limbs were watercolored using a waterbrush and reinkers.  I colored the leaves and frame border with a green distress marker. 
The fence was sketched in using distress markers and lightly watercolored with reinker. The grass and path area was sponged in using mini applicators and the sky was sponged in using an ink blending tool and cloud template.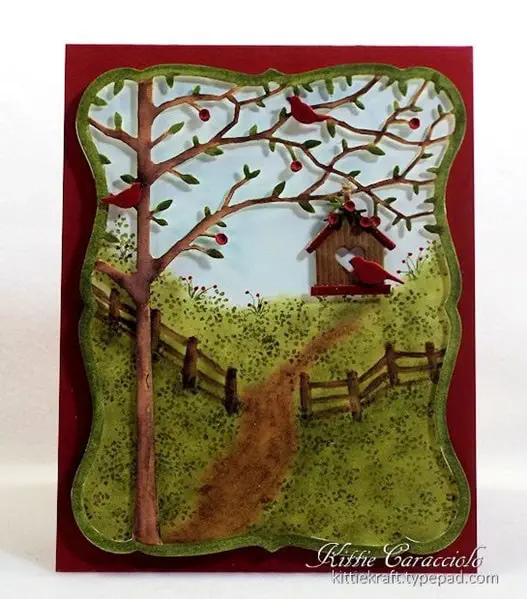 The tree frame was attached over the scene layer with small strips of mounting tape. The birdhouse was cut twice, once for the body of the house and a second time so I cut cut the roof line off.  I applied brown ink to the house with a mini applicator and colored the roof and base section with a red marker. The house was attached to the scene with mounting tape.  The birds were cut in red and colored over with the red marker for a darker shade of red to match the birdhouse.  They were popped up in the branches and on the house with small pieces of mounting tape. I punched a few tiny dark red circles and popped them up on the tree branches and added a few to the roof of the birdhouse along with a couple sprigs of fir.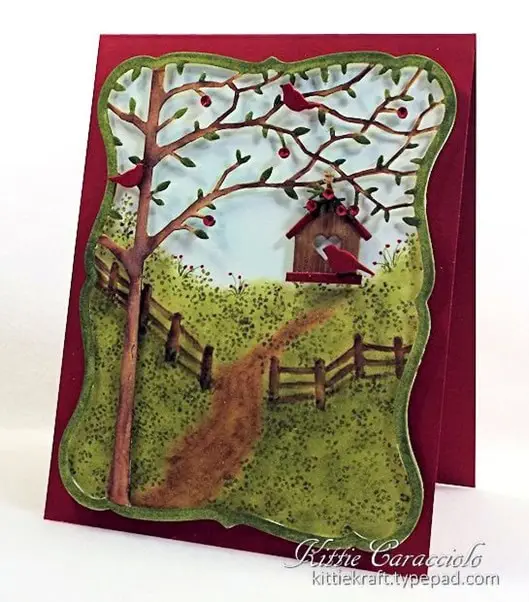 A few people wrote and asked questions about the Fabriano Artistico Watercolor Paper.  This paper is a heavy paper and is traditional white.  It is hot pressed meaning it is very smooth and does not have a bumpy texture like cold pressed paper.  It is a dream not only to watercolor on but also works beautifully for sponging on color.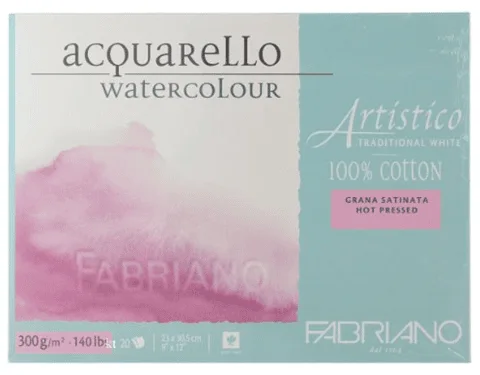 Thanks for stopping by and I hope you have a great Sunday.
Card size:  5.50" x 4.25"