Good Saturday morning.  What a crazy week I've had.  How about you?  I am so happy for the weekend.  The Free For All Challenge this week at Splitcoaststampers was to make a Christmas tag. I haven't had the opportunity to create a project this season with Susan's Conservatory Window die.  It creates such a large and lovely window and I thought it would be perfect made into a see thru window on a tag paired with a small Christmas wreath.  I love pink and white projects for Christmas but unfortunately this was difficult to photograph. It's so much prettier in person.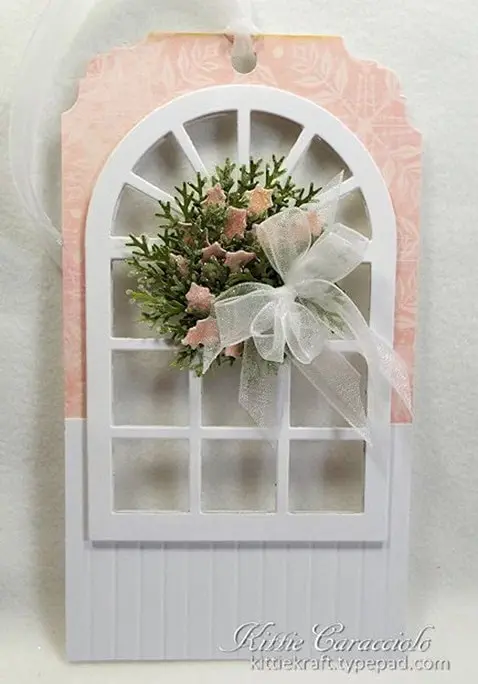 I started by cutting two windows and applying pink designer paper and a scored white cardstock to the front of the tag.  This may have photographed better if I had used a darker contrasting designer paper on the bottom.  Oh well!  I must get over it.  LOL!  I used the die cut window as a template to draw the cutting lines for the opening of the window and cut it out using my craft knife. I attached the front window to the tag  base with mounting tape and attached the back window flat to the opening with 1/4" double stick tape. I punched a 1/4" circle in the top for the tag ribbon. Check out my see thru window tutorial if you would like to see step by step photos of this process.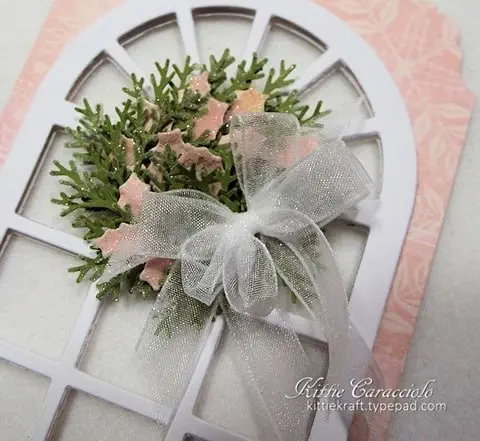 I created the wreath using foliage made with my Martha Stewart Branch Punch and Spellbinders Classic Circles .  I cut a small circular wreath base and attached the the branches all the way around to fill in and create the wreath.  Since this is such a small wreath the branches totally covered the inside opening but I still love how it turned out.  I tied a small white organdy multi loop bow and attached to the wreath with glue dots. I decorated the wreath with several holly loves from the Impression Obsession Holly Leaf Cluster and tucked them in all around the wreath attaching with glossy accents.  I applied glossy accents on the holly leaves and pine branches with my finger and lightly dusted with Martha Stewart Crystal Fine Glitter.  I have to hand it to Martha!  If you like crystal clear glitter that has no other color both her fine and coarse glitter are wonderful.  I applied glossy accents to the window panes and attached the wreath. Check out my wreath tutorial and mini wreath tutorial  if you would like to see step by step pictures of how I made my wreath.
Now for the really good stuff.  I have had the privilege to serve on two different design teams with Ellen Taylor over the years and have enjoyed getting to know her so much.  She is such a talented designer and such a sweet lady.  She was vacationing in Melbourne, FL this week and made the 75 mile trip over to Orlando just to take me to lunch.  What a thrill and special honor it was for me to meet her in person.  We could have talked for hours.  Check out The Serendipitous Stamper to see Ellen's wonderful creations.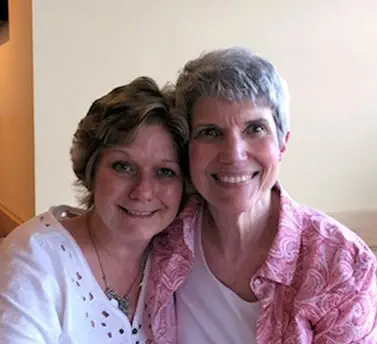 Thanks for stopping by today and I hope you have a wonderful weekend.
Tag size"  6" x 3.5"       Tag corners cut with Fiskars Corner Edgers