Good Thursday morning and welcome to the Impression Obsession design team "Happy Haunting" challenge.  Do you love new dies?  I sure do!!  My project today was made using the brand new Spider Web Background, Halloween Landscape Layers and Mini Bats.  This was such a fast and fun project to do and I love the bright orange background to highlight the white spider web and black landscape image layers.  Sadly, it was very hard for me to get good photos that showed the black layers so a couple have brighter lighting and make the orange look a little washed out.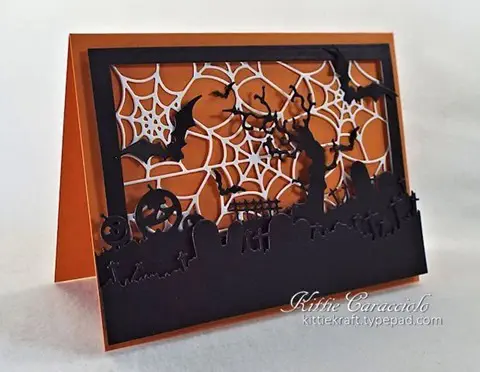 I started by applying thin strips of mounting tape to the back of the frame and attach to the spider web background. Then I attached double stick tape to the back of the spider web frame and attached it directly to the card base.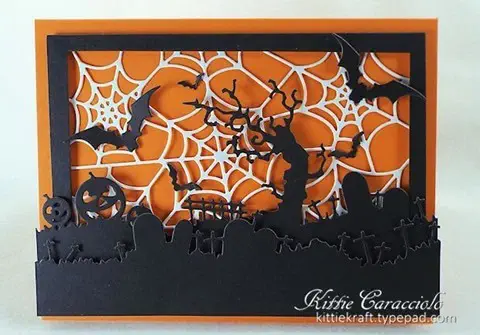 Next I applied small pieces of mounting tape to the back sides of the tallest Halloween landscaper layer and a small double layer of tape to the center and attach to frame.  I applied small pieces of tape to the front landscape layer and attached it to the back layer.  I bent the wings back on the mini bats and attached them to the card base with glossy accents.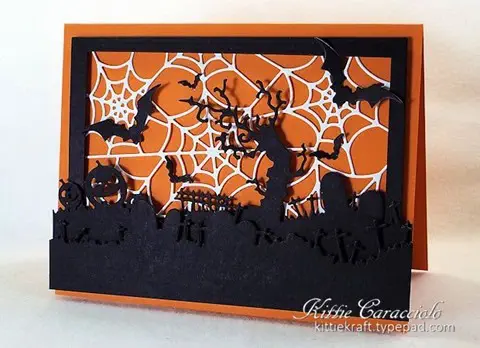 Why don't you come along and play with us. To enter the challenge go to the Impression Obsession Blog (all the details are there!). A random challenge card will be selected to showcase on the IO blog and you can enter to win a $25 gift certificate to IO just by playing! I hope you will go check out what the other IO teams members created for the challenge.
Kittie Caracciolo  (that's me)
Thanks for coming by and I hope you have a great day.
Card Size 5.50 X 4.25"