Good Tuesday morning.  My project today was made for the Splitcoaststampers Inspiration Challenge and our inspiration site was an online store called Petals.  I had so much fun browsing through the site to see all the beautiful silk flowers and foliage.  I finally settled on the a Twiggy Forsythia Wreath as my inspiration piece. I created the twiggy wreath using the Impression Obsession Wide Tree and paired it with the Foliage set, My Favorite Things Pierced Square Frames, the Nesting Squares and the Fiskars Mini Daisy paper punch.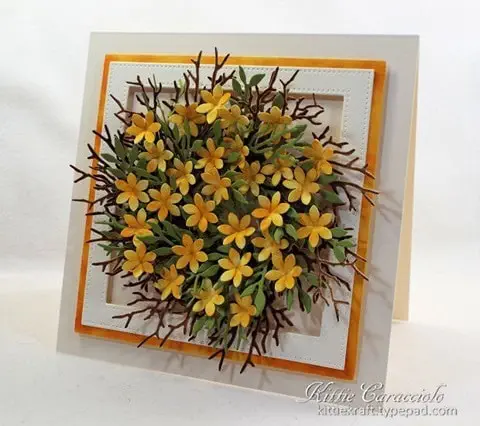 I started by cutting five sections of the wide tree using Kraft cardstock, misted lightly with water and applied Vintage Photo ink by rubbing the ink pad directly on the damp cardstock.  I dried the pieces with my heat gun and assembled the wreath and attached the pieces to a 1 3/4" circle base  with glossy accents.  You can see step by step pictures on my Twiggy Wreath tutorial to see how I put the wide tree sections together to form the wreath.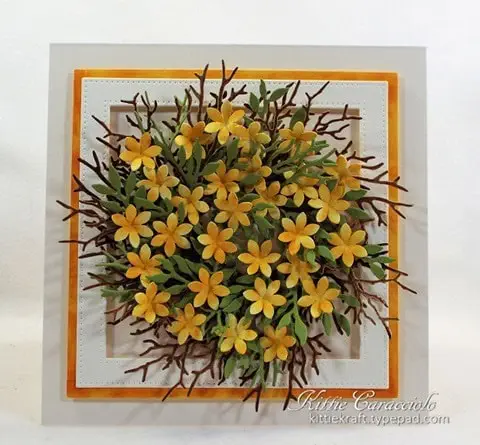 I cut a couple sections of the foliage set, cut the larger sections apart and attached them around the wreath with glossy accents to form the foliage base for the flowers.  I punched out several flowers using yellow cardstock and applied Wild Honey ink to each flower using a mini applicator.  I formed the flowers using my stylus and molding pad and then attached them to the foliage using glossy accents. I cut a frame in yellow using the Nesting Squares and applied Wild Honey ink around the border to make it match the flowers and attached it to the back of the pierced frame with ATG adhesive.  The frame was attached to the card base using thin strips of mounting tape. I applied glossy accents to the back of the frame and attached it to the card base.  I love how this wreath turned out with all the twiggy tips sticking out past the flowers and foliage.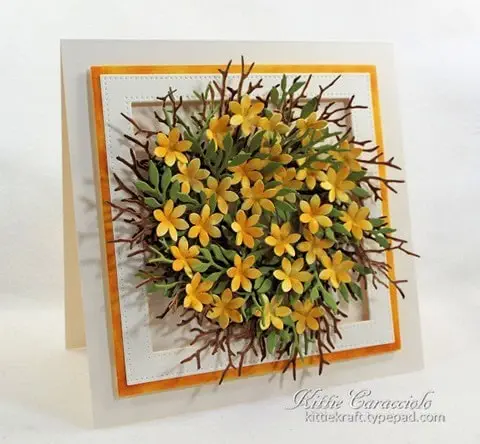 Thanks for coming by and I hope you have a wonderful day.
Card size:  5.00" Square