These handmade poinsettia Christmas cards are total showstoppers and feature a "secret" pro tip!
I promise you two things about these handmade poinsettia Christmas cards; 1 – Anyone who receives this from you will GASP when they see it and 2 – You CAN make these!
To make this elegant card I used Rubbernecker's Poinsettia #2, Holly #1, Greenery #3, Fancy Decorative  Nested and Nested Rectangles.  I used a holly embossing folder for the background. And I am sharing every step below so you can have total confidence that you, too, can create something this detailed and dimensional and just truly stunning.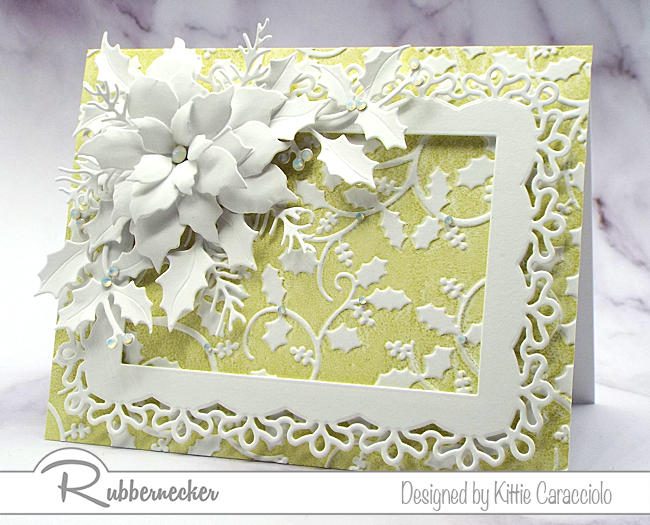 Card Base and Embossed Layer
Use white cardstock to cut an A2 sized card base and a 5.50″ x 4.25″ layer.
Follow the steps in the pictures below to brayer Shabby Shutters ink on your embossing folder and create the decorative holly background.  Note:  Pictures are from a past Belleek Inspired project tutorial.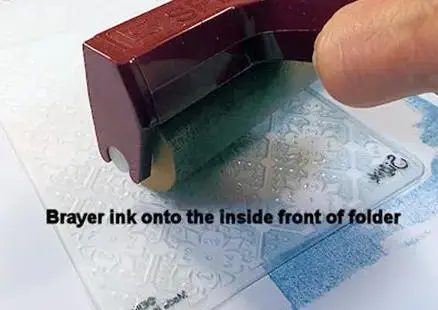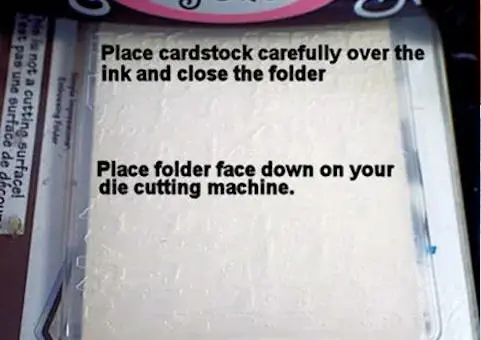 The Frame
Use white cardstock to cut the Fancy Decorative layer.
Place the layer on the cutting platform, line up the Nested Rectangle die and run through the machine.  Pro Tip:  I use a couple pieces of masking tape to hold the die in place for perfect cutting. 
Apply strips of foam tape to the back of the frame borders to give it some elevation and attach it to the card base.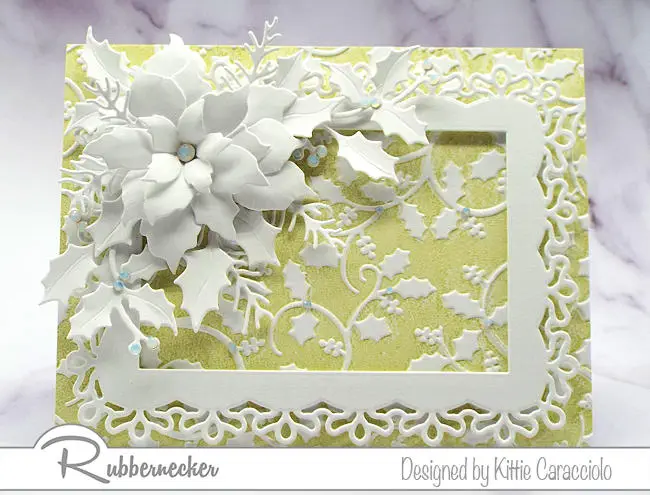 The Lush Paper Poinsettia, Holly and Greenery
Cut two full sections of the Poinsettia die set, the Holly and Greenery using white cardstock.
Place the flower sections face down on the molding pad and form the petals gently with a large round stylus.
Turn the flower sections face up on the molding pad and push down in the centers with a small tipped stylus to push the petals up.
Assemble the flower sections and begin attaching them together using glossy accents, making sure to offset each layer for a natural appearance.
Take a look at my Shaping and Assembling a Poinsettia video if you would like to see how I form my flowers. 
Place the holly sections face up on the molding pad and gently form them with a large stylus.
Assemble the Arrangement
Apply a generous amount of glossy accents to the back of the poinsettia and attach it to the card base.
Attach the gems to the holly branches.  Pro Tip: I always use a touch of glossy accents to attach the gems for an extra touch of precaution even though they come with adhesive on the back of them.  Pro Tip:  My reverse tweezers makes easy work of picking up the gems and placing them on the branches.
Tuck the holly and greenery sections under the poinsettia petals and attach them using glossy accents.
Take a look at my Arrange Poinsettia and Holly video if you would like to see how I attach the holly and greenery under the poinsettia petals.  Pro Tip:  It may seem backwards to attach the holly after the poinsettia.  Attaching the holly after the poinsettia allows me to see the perfect spots to create the arrangement.
Finish by attaching a few small gems to the holly base and a large one in the flower center.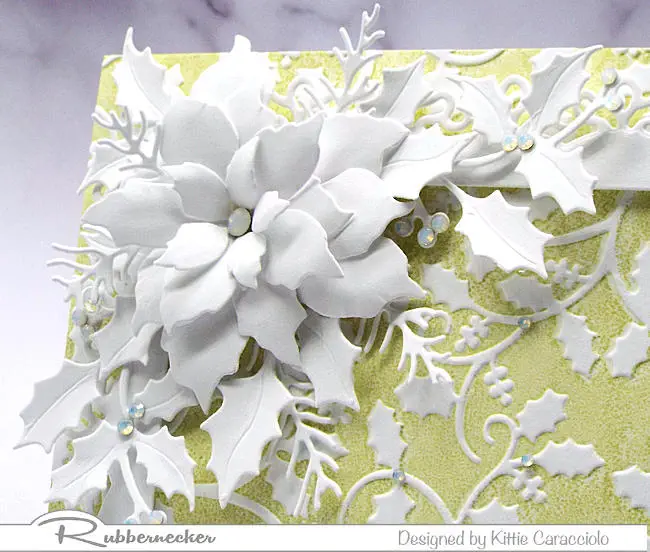 Here is a link to my Poinsettia Category if you would like more poinsettia inspiration. These classic icons of the Christmas season can be done in so many colors, styles and sizes and they are such a lovely element to add to your holiday cards.
Here are the items I used today if you want to make this same gorgeous card:
| | | |
| --- | --- | --- |
| 5509D Fancy Decorative Nested Die | Nested Rectangle Die Cut Set 5003D | Poinsettia #2 5169D |
| 5514-07D Buildable Poinsettia Die | Holly #1 Die Cut 5162-08D | 5514-04D Greenery #3 Die |
Shabby Shutters, Ranger Distress Ink Pad

Speedball Pop-In Brayer – Hard…

Spellbinders – Self Adhesive Gems -…

Scrapbook.com – Magic Mat – Standard…

Scrapbook.com – Magic Mat – Standard…

Crossover II Fabric & Paper Cutting…

Amazon.com : Dahle 550 Professional…

Susan's Garden Ultimate Tool Kit

Sizzix – Paper Sculpting Kit

Scotch Advanced Tape Glider & Tape

Mini Glossy Accents, Ranger Accents

Connect Glue, Gina K Designs

Amazon.com: 1000 Pieces Foam Sticky…

Amazon.com: Mini Foam Dots…

Amazon.com: Scotch 1/2-Inch by…

Teflon Bone Folder, Bonefolder

Scor-Pal Measuring & Scoring Board 12×12

Glue Dots, Mini (3/16″)

Amazon.com : Accent Opaque White 8.5"…

New & Improved MISTI Laser Etched…

Scor-Tape 1/8′ (3mm), Scor-Pal Tape

Scor-Tape 1/4″ (5mm), Scor-Pal Tape
As I mentioned above, there are loads of designs for handmade poinsettia Christmas cards. And as much as I love all the classic red, polka-dotted, sparkled poinsettias I've made, this white on white with that embossed background has to be one of my favorites. What about you – what's your favorite look?